Environmental Club Celebrates Everyone's Favorite Holiday: Earth Day!
Environmental Club put together a week of fun earth-related activities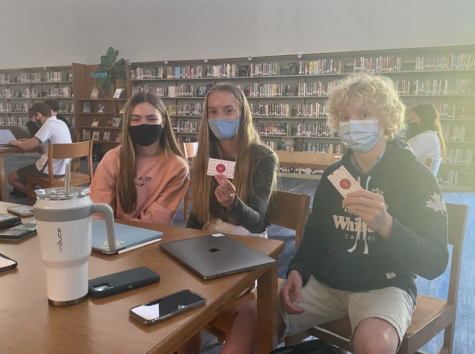 On Thursday, April 22nd, it was international Earth Day! Earth Day is an annual holiday to demonstrate support for environmental protection. This day continues to grow as a worldwide phenomenon focused on promoting clean living and healthy habitat for people and wildlife alike. Celebrating Earth Day is a helpful reminder of how important it is to protect our Earth.
To prepare for this day, the Environmental club planned activities for every day on the week of April 19-23 to spread the importance of keeping our planet clean. With these events, it allowed students to spend more time learning about the environment and the problems we face. Every day during Earth week was a small step towards a better and safer environment.
To start off, on April 16th, some students stayed after school to help decorate the Gries student lounge area. They included a big picture of the Earth, along with the famous "Reduce, Reuse, and Recycle" phrase. It was the perfect way to begin earth week! On April 19th, day one of Earth week, the club met up to watch two documentaries on ways to improve the environment. In addition, we watched a short video made by a Berkeley Alumni on the endangerment of turtles, and how we should help protect them. Although it was simple, it was the perfect start to Earth week. 
On Tuesday, club members helped set up pots and paints for students to come during lunch and paint pots with whatever design they wanted. It was a nice way to relieve any stress about upcoming AP exams, while doing earth related activities. Not only that, but while students painted, it allowed them to realize their individual impact they will have when planting something that will become so beautiful. Next, on Wednesday, students came back to fill their painted pots with soil and seeds to plant whatever they wanted. Plants are considered a critical resource because of the many ways they help support life. They help release more oxygen into the atmosphere, provide habitat and food, and regulate the water cycle. Although planting seeds might seem like a small step towards helping the environment, when looking at the bigger picture, plants can do so much to improve our air quality. 
Next, on Thursday, club members held a trivia day in the library for any students that wanted to play. Earlier, the club had created a 25 question kahoot that included facts, statistics, and history questions pertaining to the Earth. Winning the level one kahoot was a team consisting of Emma Flowers '23, Delaney English '23, and Alex Banull '23. When asked about the event, Flowers said "The trivia was super informative and fun. I loved learning more about the earth."
Finally, on the last day of Earth Week, students came after school to watch The Lorax in the library. Although it is a children's movie, it can be related to the real world, and how there are consequences to destroying the Earth by cutting down all the trees. Since the Onceler cut down all the Truffula trees, it ultimately led to poor air quality and a toxic environment. After the movie, all students gathered together to discuss articles related to deforestation and things that Berkeley or individuals can do in order to help prevent deforestation. The movie was a great way to conclude Earth Week and inform everyone on how to take care of Earth.
Environmental Club thanks everyone who participated in these events and hopes more people will come out next year. Don't forget to do your part in protecting the environment!