Got Served
Varsity Tennis remains undefeated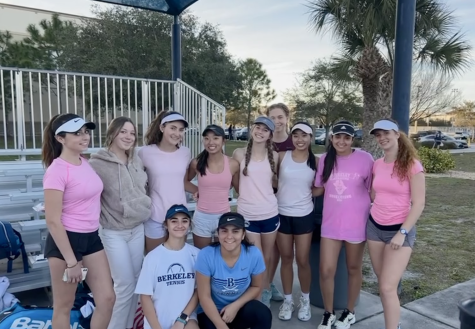 Game…Set…Match… The athletes feel all the thrill as the tennis ball flies over the net landing perfectly on the line. The excitement of the tennis game is unmatched. 
Being a part of the tennis team has been one of the most fun parts of my high school. Just like any other sport, the tennis team has a deep bond between its teammates, and it's a great way to make new friends.With our great bond, the team has been able to maintain an impressive record. The girls Varsity team has been undefeated for over five years with a regular game season record of 79-0. That's quite impressive! Not only have they been undefeated for a long time, but they have won Districts and Regionals countless times, moving on to States. Last year's season, the team finished as State Semi-Finalists, which did not get the recognition it deserved. Captain Kayla Mang '22 says, "This year has been an incredible one, the team bond is like nothing I've seen before. I'm so proud of this team as our win streak continues and can't wait to see what else we can accomplish."
In addition to the girls team, Varsity Boys have been doing great as well. As of this current season, their record is 9-0. Along with the girls, last season, they won both Districts and Regionals, making it to States! In the end, the boys were able to pull through and win tough matches to end as State Semi-Finalists. I asked Captain Kyle Matton '22 how he feels about being on the team, "The boys team is undefeated so far this season, and it has been fun getting to know freshmen". Both girls and boys have performed exceptionally well and should be proud of what they have accomplished. 
Unlike other sports, tennis rarely gets attention, despite the success of the team. There's countless emails about football, volleyball, soccer, and even lacrosse, but never tennis. Many times, the tennis team is disappointed with the lack of fans in the stands. Having been on Varsity since 7th grade, Harper High '24 is used to the empty stands but wishes it would change. "I think tennis gets a bad rep because people think it's boring, but if they came out to our matches, they would see that it's fun to watch. Our team hasn't lost a game in five years, we deserve some recognition." Make sure to come out to at least one match this season and support your friends!