Ice Bucs Face-Off against Long Season
Without a doubt, hockey is one of the toughest, most physically demanding and violent sports. Not only is the sport extremely physical, but it's also played on a difficult terrain. Ice. A hockey player must be strong, fast and tough as nails, in addition to being a skilled skater. With all these vital skills, the Berkeley Ice Bucs must work hard, play as one cohesive unit and rally behind their strong defense to have a successful season. The Berkeley Ice Bucs strive to play with a defensive mindset, stay in top physical condition and work as one unit.
The Ice Bucs practice to endure a long, physical season. "Endurance skating is the name of the game," said Junior Adam Guttentag.  During practice, the team always makes time for endurance skating, which gives them the extra strength that is essential to finishing games. These endurance skating workouts are extensive, challenging and physically demanding to prepare for the games, as hockey is a low scoring sport in which games often go into overtime. With this extra intensity in workouts, the team intends to win more games and keep the score close against superior teams. They practice as if they were playing in an actual game, going full speed in every drill, offense or defense.
Due to this demanding practice regimen, the team is making a lot of progress on the ice and improving from game to game. Both stick and skating skills have grown with each game, helping the team reach its season goals and give their toughest opponent, East Lake, a run for their money. Guttentag also shared his own goals for the season:  "Personally, I hope to improve as a player but more importantly as a teammate.  Also, as a team goal I want us to win some games and keep all games close."  Guttentag and the team have already shown much improvement from their intense training and in their overall work ethic, which will continue to develop throughout the season.
The Ice Bucs are overall a very well rounded team that rallies around their defense by keeping opponents from getting easy shots off.  The only element the Berkeley Ice Bucs lack is experience, as they have a lot of new players taking the ice for the first time. However, the team works well as a unit, something crucial that many other teams lack. Instead of having one all-star player who does all the work and receives the credit, as many high school hockey teams do, the Berkeley Ice Bucs  work as a team. With several more games this year at Tampa Bay Skating Academy, they hope to continue to do well in their season, racking up some more wins and not lying down for tougher, more experienced opponents.
Leave a Comment
About the Writer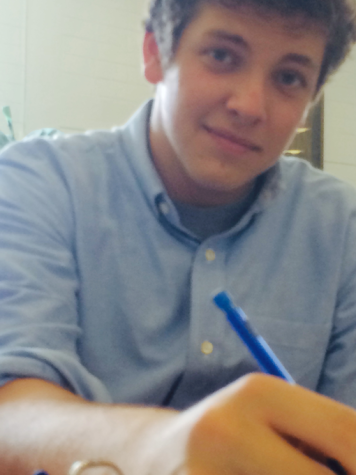 Thomas Fuhrman, Staff Writer
Thomas Fuhrman is very tall. But it doesn't stop there. Thomas is also an avid member of Model U.N. and likes to Lacrosse on the Varsity Lacrosse team...