Berkeley Sweeps Headmaster's Challenge (Almost)
At the thirteenth annual Headmaster's Challenge, Berkeley had a title to defend, not only as last year's winner, but also as the overall series leader.
Wrestling and soccer, as well as all of the Middle Division sports, had secured Berkeley's win, but basketball provided the high-energy competitive environment right before the Headmaster's Cup ceremony.
The only point Tampa Prep had earned thus far was due to inclement weather.  Afternoon showers rained out the varsity boys' soccer game at halftime, and with the game abruptly ending 0-0, Berkeley and Tampa Prep split the two points awarded to a varsity win.  But with all of the Headmaster's Challenge crowd watching the final game of the day, it would be an important win nonetheless.
The boys' junior varsity basketball game started the last games off strong– the final score was Berkeley 51, Tampa 28.  As Michael Fruit, '18, a member of the JV team, said:  "We all practiced and prepared hard and all of that work showed out on the court with our win versus Tampa Prep."  Fellow teammate Javon Cooper, '18, added, "We stuck together and played not only as teammates, but as brothers."  If this game had any indication of the upcoming ones, then Berkeley fans were in for a treat.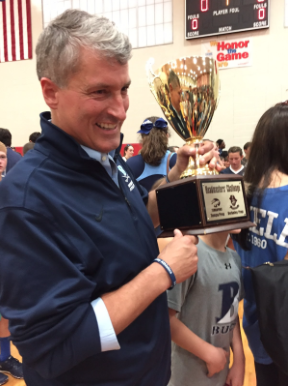 The girls' varsity basketball game also ended in another Berkeley win. Upper Division Director Ryan Jordan even caught the basketball that went out-of-bounds.  Crucial players in the game included Kellyn Trowse, '18, Isabella Moreno, '17, Marissa Maddalon, '17, and Kaelee Overfield, '16.  The final score was Berkeley 44 and Tampa Prep 32.
The last game for boys varsity basketball was eventful as well. Berkeley's Kaleeyl Findlay, '17, scored a whopping 26 points. A Tampa Prep player had to be helped off the court earlier in the game due to a knee injury. With the last 54.4 seconds ticking away, Tampa Prep students chanted "I believe that we will win,"while Berkeley students responded,  "Scoreboard, scoreboard, scoreboard." The Berkeley Bucs were leading by one point at that time, but it was still anyone's game. As the clock hit zero, Berkeley ended the game with a slam dunk and a final winning score of 62-58.
For Upper Division Athletic Director and Varsity Basketball Coach Bobby Reinhart, Headmaster's Challenge was not only about the basketball games.  "Saturday in general was just a great day," Reinhart said.  "We had a tremendous amount of success in all three sports, and at all three levels: Varsity, JV and Middle Division."  Reinhart said that "to just look across that basketball court and see a sea of blue, [and see] people on their feet for almost all of the game, that's inspiring. There's no doubt it had an impact on our players and how they performed, how hard they worked, their will to win… I think it was a great team effort, not only from the players, but from the fans in the stands as well."
This year's Headmaster's Challenge will be hard to beat, and some would even call it impossible. Here's to sweeping the Headmaster's Challenge in 2017!
Leave a Comment
About the Contributor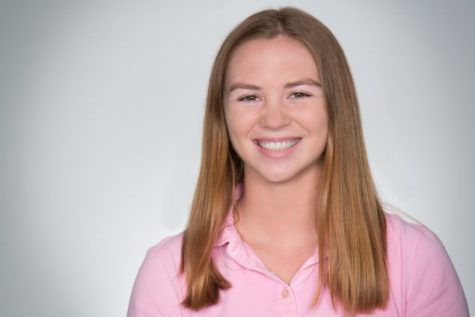 Emma Edmund, Co-Editor-in-Chief
Emma is a senior on The Fanfare. When not writing for The Fanfare, she's a member of History Bowl, Model United Nations and the swim team, and she...