Inside Look: Jalen Li's All-State Band Experience
A narrative retelling of this sophomore musical prodigy's experience at the Tampa Convention Center.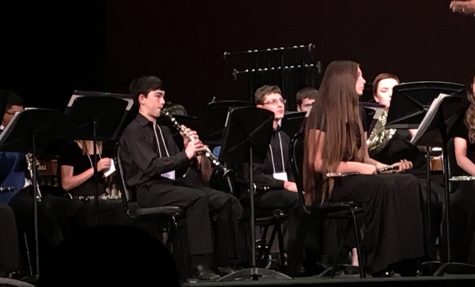 "Alright, next up is your twelve major scales."
Jalen Li '19 takes a deep breath, then proceeds to produce one of the most stunning technical performances to ever escape the lips of a high school clarinetist. His fingers dance nimbly across the keys like a smooth wave, never wavering as they undulate up and down the scales. His face is bent with concentration as he skillfully navigates every sharp and flat without a hint of hesitation. He incorporates musical phrasing into his playing, making simple scales sound like Beethoven's tenth. And then the feat is over. Li has completed all twelve major scales, a total of over 200 notes, in under two minutes.
The recorder of the audition stands aghast for a couple of seconds, before realizing he isn't supposed to react to auditioners' performances. He clears his throat before saying, "Alright, let's move on to sight-reading."
* * *
A couple of months later, Li stands in awe inside the Tampa Convention Center, remodeled to any band enthusiast's wildest fantasies. Li browses through the sheet music exhibitions for the upcoming All-State Concert Band performance like a teenage girl dropped off at the Westshore Mall with a credit card. He tries out an assortment of instruments (baritone, euphonium — all the cool ones) like a gourmet would sample a tray of fine cheeses. He also attends "master classes," seminars where a professional teaches a small group about a specific aspect of music. He listens to these lectures as attentively as Plato listened to Socrates. Li already knows that his experience at All-State will be unforgettable, and he hasn't even performed yet.
Fast forward to his performance and Li can't help but dance a little, as he plays the lilting Irish melody of Holst's Second Suite. He anxiously awaits the soaring euphonium solo with which his countermelody will mesh perfectly. The performance has arrived, and Li is completely in his element. There it is — the brass sound of the euphonium floats above the rest of the band, and Li is focused. He keeps in perfect time and tone with his bandmate as they embark on a musical journey together in perfect harmony. The clarinetist is enraptured by the euphoniumist's sonorous tones when suddenly the piece ends with a resounding marcato. The crowd erupts in applause. As the band stands up to be recognized, Li catches the eye of the euphonium player. They give each other the knowing look that all musicians give when they know they have just crushed a performance. As he looks out at the crowd, he comes to realize the scope of his accomplishment; the months of preparation, learning scales, études and pieces were all worth it, as he basks in the moment.
Jalen has proven himself to be one of the best clarinet players in the state, and, more importantly, his experience in the All-State Concert Band will influence his life forever.