Best Shows to Binge Watch Over Break
Hang on for a minute...we're trying to find some more stories you might like.
After the stress of exams is over, many  students look for a way to rest and recuperate after two long, tiring weeks of studying and testing. One popular way to unwind after a long semester is some good, old fashioned TV binge watching. Whether it's on Netflix, Hulu or HBO Go, these shows are some of Berkeley students' favorites to binge watch:
    

"Game of Thrones"

–

"Game of Thrones" is set in the mythical land of Westeros over which several noble families fight, often violently, to control. Additionally, it is set in medieval times and features many mythical creatures including dragons and giants. Its sixth season premieres next April, so winter break is a great time to catch up with this show.

    

"Friends"

–

"Friends" is a classic sitcom that follows the lives of six twenty year-old friends living in New York. The plotline follows the often funny situations that most people experience in their twenties as they figure out adulthood.   

    

"One Tree Hill"

–

"One Tree Hill" follows the evolution of the relationship between two half-brothers who  compete for positions on their high school basketball team. But what makes this show truly special, Senior Paige Weiss says, is "because it's so relatable, it's all about high school students for the first four seasons and then…it fast forwards four years until they're all done with college. You get to see two different perspectives of this group of kids."

    

"House of Cards

–

"House of Cards" follows the often sneaky and scandalous dealings of Frank Underwood and his wife as they attempt to rise through the ranks of Washington D.C. Another element that adds dimension to this show is the narration provided  by Frank Underwood, a device that makes you root for this anti-hero. Follow Underwood's conniving methods as he attempts to achieve his ultimate goal– the presidency.

    

"Gossip Girl"

–

"Gossip Girl" is a popular teenage drama about the lives of privileged New York Upper East Side teenagers that is narrated by an anonymous blogger named Gossip Girl. Senior Jessica Schrier says she likes this show  because of the "New York upper class prep-school drama. The drama created within the storyline is entertaining."

    

"How to Get Away with Murder"

–

"How to Get Away with Murder" follows a twisted murder plot which involves six law students and their extremely successful law professor. What the students thought was simply a career propelling internship turns into a murderous series of events that promise to change their lives. Sophomore Krishna Menon likes this show because "the protagonists are really cool…you can hear their story and you get really rife with anticipation for the next episode."

    

"Unbreakable Kimmy Schmidt"

–

"Unbreakable Kimmy Schmidt" follows the transition of a woman who was rescued from a doomsday cult as she attempts  to lead a normal life in New York City. Junior Sarah Roth enjoys Jane Krakowski's character on the show, a rich woman for whom Kimmy Schmidt nannies, "because she is so overdone that it is just hilarious."
Whether it's as you sit by the pool basking in the Florida sun or inside wrapped in a blanket, pretending winter actually exists in Florida, these shows are definitely a great way to unwind after exams. Best wishes to everyone on their exams and for a restful winter break!
About the Contributors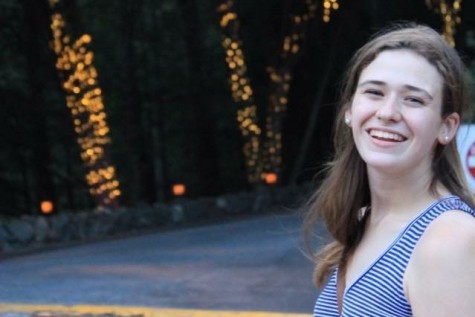 Katie Freedy, Staff Writer
Katie Freedy is a senior, a previous Sports Editor, and currently a staff writer. If you need to find her you can find her running around campus (possibly...