Tampa Bay Buccaneers Rev Up for Coming Season
It was an offseason filled with change—in the form of new additions and improvements—for your Tampa Bay Buccaneers. The Bucs hired new General Manager Jason Licht and Head Coach Lovie Smith, along with a new offensive coordinator Jeff Tedford. Smith returns from the glory days of the Tampa 2 Defense, where he served as the Linebacker Coach for the Bucs from 1996-2003.  Smith helped develop a linebacking core which included Hall of Famer Derek Brooks who, under Smith's leadership, allowed only 12 points per game in 2002, resulting in their first and only Super Bowl win.  Since his time in Tampa, Smith has had a very successful tenure as head coach of the Chicago Bears.
In addition to a plethora of coaching changes, on the field the Bucs have had their fair share of personnel additions. The Bucs made a bold move in signing former Bengals defensive end Michael Johnson to a five-year deal.  Furthermore, Tampa Bay signed veteran cornerback and former Tennessee Titan Alterraun Verner to a four-year deal. These additions should help make Smith's defensive transition much smoother as the Bucs look to return to an elite defense.
While they focused on the defense in free agency, in the draft the Bucs selected all offensive players. With the seventh pick in the draft, they selected Mike Evans. Evans is a great fit alongside 6'5" Vincent Jackson. It appears as if Smith is trying to mimic the wide receiving duo he created in Chicago with two 6'5" wide receivers—Brandon Marshall and Alshon Jeffery—who dominated defenses last year.   In the second round the Bucs selected another giant 6'5" receiver, Austin Seferian-Jenkins, who will play tight end. Hopefully, quarterback Josh McCown can find success throwing to this enormous receiving core.
As we continue with change as the main theme for the Bucs, we see the return of running back Doug Martin, who missed the majority of his sophomore season due to a shoulder injury.  Martin had an incredible rookie year but started off very slowly in his second year before getting injured.
Senior Ben Root, a self-proclaimed lifelong Bucs fan, feels that the Bucs are primed for a positive year with all of their new additions.
"McCown and new coach Lovie Smith see eye-to-eye on many issues regarding our pass[ing] game." Root said. "Defensively, we are as strong as I have seen since the 2002 Super Bowl season through the add-ons of [defensive end] Michael Johnson, [corner back] Alterraun Verner, and [defensive tackle] Clinton McDonald. I believe we will have a winning record of 9-7, make it to the playoffs, and lose in the first round."
Sara Varsames '15 predicts a less positive outcome for the new season. "I feel that all the changes will not amount to wins and we will finish 6-10," she said.
In the NFC South, the division is wide open. Under Smith's leadership, the Bucs could be potentially primed for a big bounceback this year and compete for the NFC South crown.  All NFC teams have a myriad of obstacles to overcome, especially the Atlanta Falcons and Carolina Panthers rivals.  The most complete team, which is poised to take the division, is the New Orleans Saints.  However no team has ever won the NFC South two years in a row, making it anyone's to win. Keeping that in mind, Bucs fans hope that all of these changes equate to a successful season.
Leave a Comment
About the Contributor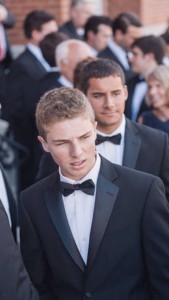 Stefan Anthony, Sports Editor
Stefan is the Senior Sports Section Editor along with Junior Katie Freedy.  Stefan has a blazing passion for sports.  He is often compared to ESPN...