Dominating the Diamond
Berkeley Prep Softball will not accept a loss
It's going…it's going…it's gone! Homerun Berkeley! The Girls Varsity Softball team is thriving this season, while demolishing their opponents and swinging out of the park. Currently undefeated, the team has been able to secure their winning streak, especially in close games, with the pitchers at the mound. Freshman pitcher Avery Powers '25 broke a Berkeley record early season with a whopping 22 strikeouts in one game! Many of the team's pitchers,  including Kai Cortez '24, Holland Poe '25 and Paige Quinn '26 were able to prevent hits in the final innings, leading the team to victory. In addition to a strong defense, many of the team players have struck far by hitting multiple home runs to increase the winning score. Collectively, the team has hit over 10 home runs only halfway through the season!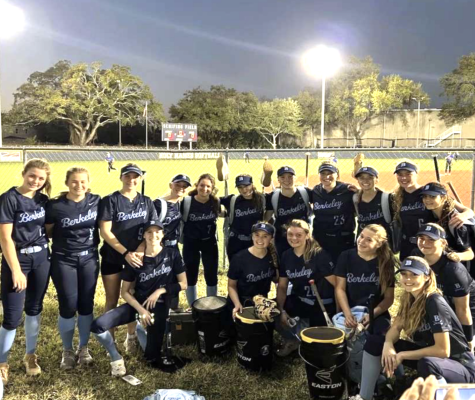 Contributing to this success,  varsity coach Dayna Crawford has managed to be the motivating figure to the team during games and practices. Her college softball experiences shapes her as a credible teacher for the team. Crawford addresses weaknesses and works within the infield and outfield during practices. 
"They work hard at practice and put in extra time to be the absolute best they can be for the team," Dayna said. "It is clear they are playing for each other and not themselves." 
When it comes to games, she is energized and especially uplifting, providing a positive environment for the players. Similar to a coach, Hannah Church '22, the only senior on the team, has been successful at the plate as well as an influential leader for the team. In her final year, she is leaving behind her legacy by creating a remarkable season. On fall signing day, she signed to continue her athletic career playing Division 1 softball at Ohio State University. 
What makes this 2022 spring softball season different from rest is the strong bond between the girls that helps them work together and encourages one another to play the game they love. Their fluency on the field differentiates this team from the former years. The full team includes Adriana Price '24, Brooke Newsom '23, Violet Barcelo '25, Gracie Murphy '24, Paige Quinn '26, Madelyn Malin '24, Amelia Kent '23, Avery Powers '25, Emerson Combs '24, Lauren McCelland '23, Ella Malin '25, Holland Poe '25, Millannia Travaglino '25, Marley Mariani '23, Kaia Cortes '24, Makenzie Crerand '25, Hannah Church '22 and Dania Chenail '24. 
Next up for the softball team is the State Championship! Go Bucs!