Seniors Klaas van de Groep and Julia Doster Receive Highest Honors
The Fanfare sat down with award recipients to get insight on their accomplishments and respective awards
Each year, Upper Division seniors are recognized for their excellence in the arts, service, fellowship and academic pursuit. Two of the highest honors a senior can receive are the Betty Bruce H. Hoover Award and the Headmaster's Trophy. The Fanfare sat down with recipients Klaas van de Groep '22 and Julia Doster '22 to discuss their senior year and reactions when they won their respective awards.
Headmaster's Award: 
Given to the school by an anonymous donor, the Headmaster's Trophy is annually awarded to a student who best represents the true spirit of Berkeley. It is considered the most distinguished award given to a Berkeley student, and it is for this reason that the selection process involves the entire Upper Division, including student nominations and administration voting.
When asking for nominations, students were asked to consider which of their peers had been the most instrumental in creating the Berkeley community and whose absence among them would make a noticeable difference in the life of the school. Decided by the Upper Division community as a whole, this year's recipient of the Headmaster's Trophy was Klaas van de Groep '22.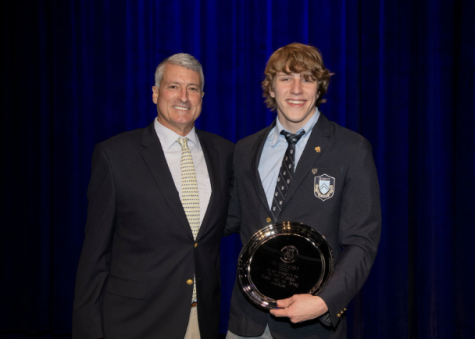 "Winning the award felt like solving the mystery before Scooby-Doo and the gang," van de Groep said. "What I mean by this is that the way they revealed the recipient was thrilling. When Mr. Seivold started to list some of the qualities and deeds of the award winner, heads simultaneously turned towards me. I was over the moon excited."
As the Vice President of Student Forum and avid member of the Environmental Club, van de Groep has worked to make Berkeley a more environmentally friendly place. Last year, he organized an Upper Division trash pick-up competition. He also built an outdoor classroom and butterfly garden for Lower Division, and an enclosure for a community garden that serves the Berkeley Food Pantry. Nominators even noted that van de Groep can be seen selflessly picking up trash around the campus almost every day, "single-handedly beautifying our campus."
Headmaster Joseph Seivold stated, "he has many more ideas for ways that Berkeley can become greener, and he lives out that mission every day." 
In addition to pursuing environmentally friendly efforts, van de Groep was also recognized for his genuine leadership and friendly character. He makes consistent efforts to reach out to students of all grades, making them feel welcomed and heard. 
One nominator wrote, "Whether through telling a joke to elicit laughter or extending a compliment to boost self-esteem, Klaas has made indelible impacts on Berkeley through his care for its members."
With this, van de Groep was awarded the Headmaster's Trophy for his benevolent personality and environmental actions during the 21-22 school year.
"I think I left an impact on Berkeley primarily through my attempts at service to others," van de Groep said. "Whether it was trying to make someone's day a little better through compliments, sharing snacks, conversations or just my bad jokes, I think my efforts paid off."
Betty Bruce H. Hoover Award: 
First given in 2000, the Betty Bruce H. Hoover Award was established in honor of the retired Upper Division director. The award recognizes a student who consistently exerts a positive influence and serves as an inspiration to others, without the expectation of recognition. This year's recipient of the Betty Bruce H. Hoover Award was senior Julia Doster '22.
"I was really shocked when they gave me the award but also very honored!" Doster said. "I hope my impact on Berkeley will be on the clubs I've helped lead, the friends I've made, and the advice I've shared with underclassmen. I will really miss the people that have made Berkeley exceptional- the students and teachers."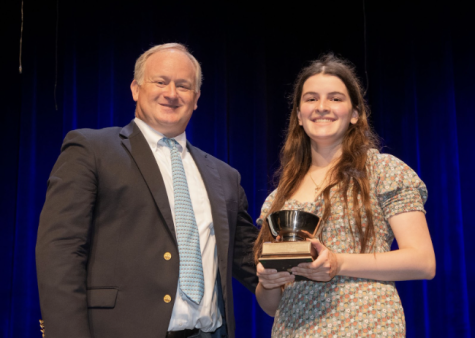 Doster was an integral part of the community. She was a dedicated Student Library Proctor and active participant within the International Book Club, Math Club, French Club and Cultural Appreciation Club. Creative and selfless, Doster utilized her love of art to craft masks to supply front line workers who were in dire need of support in the summer of 2020.
"Whether it be with her physical presence on campus, or making an impact from outside of Berkeley's walls," UD Division Director Ryan Jordan said, "Julia is fiercely determined to make a positive difference in our community, without the expectation of recognition."
In addition to her accomplishments at Berkeley, Doster also became one of the first local female Eagle Scouts. She joined scouting at age 16, on the exact day that women were allowed into the program, and through service, merit and leadership, she earned the Eagle Scout ranking in a remarkable two years. 
"Julia is truly a pioneer and inspiration to young women, both inside and outside of our community, " Jordan said.
With this, Doster earned the title of 2022's "unsung hero," in addition to receiving the Betty Bruce H. Hoover Award.
Leave a Comment
About the Contributor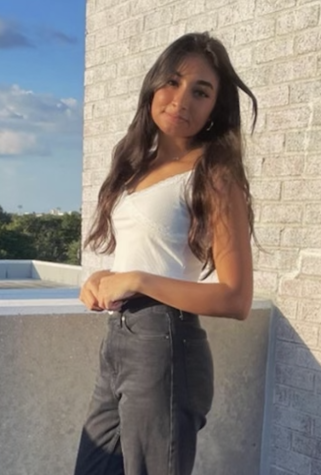 Aryana Makati, Editor in Chief
Aryana Makati is Editor-in-Chief of the Fanfare this year. Aryana has attended Berkeley since Pre-K and is currently a junior. She has been involved in...