Fall Sports '22 Recap
How did Berkeley's Fall Sports teams do this year?
This fall season was a successful season for most of our teams. Of our six sports teams, all of them had exemplary seasons. 
Football
The Berkeley Football team started their season off at a shaky 2-3 before rallying to win six games straight to make the regional playoffs. They unfortunately lost in the Regional Semifinals to Calvary Christian on a two-point conversion in overtime. The Berkeley team was led by Keon Keeley '23, a five-star defensive recruit, and Troy Reader '23, a Notre Dame baseball recruit. The football team had an outstanding season and we are all sad to see the seniors leave.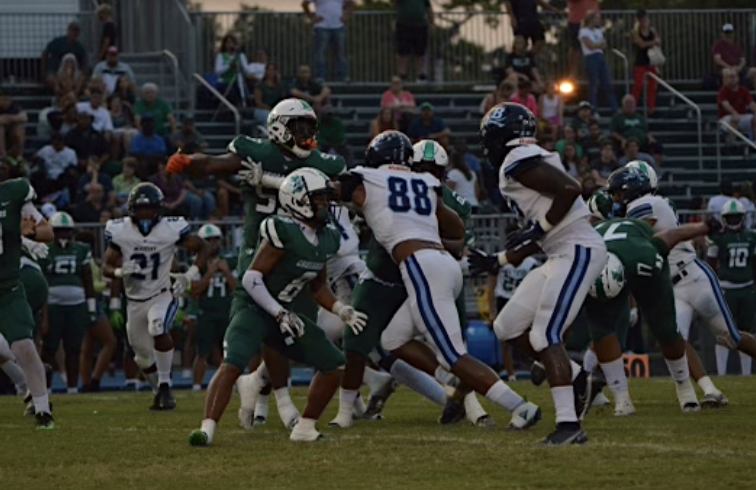 Girl's Cross Country
The girls cross country season was outstanding. They sent seven runners to states: Hannah Latif '24 (14th), Kylie Stephens '23 (35th), Emily McDermott '24 (85th), Finley Jordan '23 (111th) and Emily Richardson '24 (128th). Hannah Latif '24 had a season for the history books posting some of the fastest 5k times in Berkeley's history. The team also finished in an outstanding top 10 place for the 2A class. 
Boy's Cross Country
The boys cross country also had an exemplary season. They sent several runners to state such as Kirin Karver '23 and Storm Weber '25 who both finished inside of the top 20 (6th and 17th). Berkeley also finished at 15th in the 2A class for Florida.
Boy's Golf
The boys golf season had an eventful season with many golfers doing better than they have in years. Alex Ogle '23 made regionals for the first time since the seventh grade, and Ronav Benak '25 and Andrew Zhao '25 both did well to make regionals. The Berkeley team almost qualified for states but fell short by just two strokes. 
Girl's Golf
The girl's golf season ended in Regionals at Cove Cay Country Club. The team was very young with many key golfers being underclassmen or even middle schoolers. Golfers such as Sofia Keskiner '26, Madeline Zakarian '25 and Emma Yu '25 performed fantastically and propelled the team to districts. 
Girl's Volleyball
The volleyball season ended prematurely with the girls finishing with a record of 15-12. The team was led in almost all statistical categories by Bailey Higgins '24. She led the team in blocks, digs, kills and hitting percentage. The team hopes to perform better next year and hopefully go farther in the playoffs.
Boy's Swimming
The boys swimming season was very successful, sending three swimmers to states: Cole Radnay '26, Garret Richter '24 and Jake Roberts '29. The Berkeley team placed 32nd out of 73 teams in Stuart, FL. The boys plan to be back next year with a young team and hope to send even more swimmers to states. 
Girl's Swimming
The girls swimming season was slightly more successful than the boys, sending a total of five swimmers to states: Audrey Cecil '23, Laney Brown '23, Sunshine Haedike '26, Paige Easton '25 and McKenna Smith '25. The girls team finished at a stunning top 10 in the state and hope to repeat their efforts next year.