Humans of Berkeley: Jackie Hennecke
Jackie Hennecke '20 talks about her passion for outdoor leadership, her journey of creating Girls Outside and her plans for the future.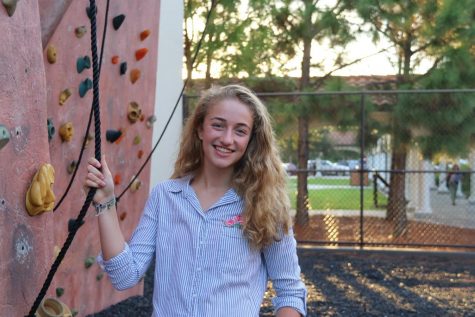 Jackie Hennecke '20 has climbed mountains throughout her life–literally. Growing up in Alberta, Canada gave Hennecke easy access to a plethora of outdoor activities, including a backpacking camp through the Canadian Rocky Mountains that would change the course of her life.
Flash forward to high school. After moving to Tampa, Hennecke found herself wanting to do something with the passion she left behind in Alberta. She wanted to help her community.
"I just realized how much I love pushing myself and seeing how I can connect my physical and emotional capabilities to that," Hennecke said. "I just realized that I had to do more with it here. I wanted to find more opportunities for girls who don't have the ability to increase their leadership and physical abilities in those ways."
Enter Carson Eckhard '17. Eckhard, like Hennecke, was passionate about outdoor activities and was bursting with ideas about how to impact those around her. When Eckhard wanted to start an initiative for girls to learn about active leadership through outdoor activity, she knew just who to call on–Hennecke. Together, they created a service-oriented, not-for-profit organization that would change the course of many young girls' lives. This organization is called Girl Outside.
Girls Outside is a program for middle school girls from the Redlands Christian Migrant Association (RCMA) Wimauma Academy, centered around sixth graders but also servinges seventh grade girls returning to the program this year. Girls Outside's mission is to educate these girls on the importance of leadership, and for the girls to bond with Berkeley's Upper Division volunteers through outdoor recreation.  
This yeare following year, Eckhard began her freshman year at the University of Pennsylvania, and Hennecke became Girls Outside's new leader.
"It was less organized as soon as Carson left," Hennecke said."  "Up until that point she didn't really have a committed leadership team, and so after she left, she left a bit of a gap."
Hennecke was left on her own to fundraise, to recruit volunteers and to plan events. She established a strong leadership team that would assist her in running the Girls Outside club at Berkeley.
"Some of my friends helped me get to the point where we could get to an organized spot," Hennecke said. "Within the club, we don't want to have the positions [of] President, Vice President and secretary. We're trying to make it more community based, so we're having a pool of leadership [positions] that are going to be run through democratic elections."
During Eckhard's senior year, she was awarded the annual Tampa Bay Lightning Communities Heroes of Tomorrow Award for her work in community service, which contributed to the funding of Girls Outside. Hennecke has continued to raise money for the program through bake sales. With Girls Outside up and running, the girls from RCMA were able to try outdoor activities including a 5K running race, excursions to the Julian B. Lane Park in South Tampa and a week-long program during the summer of 2018.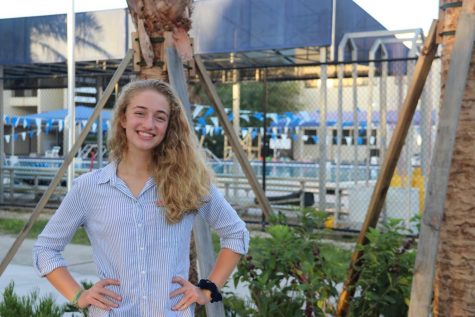 Hennecke also gathered a group of friends (including Eckhard) to teach a summer Girls Outside class at Berkeley Academy last summer, where middle school girls scaled rock walls and kayaked in Cantonis pool. The course was such a hit that it will return this fall, and Hennecke has new ideas to make it more educationally and community service oriented.
"This year, we're going to devote more time to actually helping [RCMA students] academically by spending time mentoring and tutoring them to help them get into Berkeley Academy," Hennecke said, "…and we're running a capstone project…They'll work together to plan a service event of their own for a group of their choosing,"
Girls Outside isn't the only impact Hennecke plans to leave on the Berkeley community. As an active member on the Berkeley Community Service Council, Hennecke is preparing to propose a laptop drive for an all-girls school in Rwanda in the near future. When Hennecke goes to college, she wants to study humanities and would like to have a career in non-profit business management.
When Hennecke was asked to give words of wisdom to other students who want to make a difference, she incorporated her personal experiences into her advice. "My ideas all opened up when I literally sat down and talked to myself and said, 'Okay, this is what I want to do…what's stopping me?'" Hennecke said.  "I know this might sound cliche, but I was really like, 'Nothing.'"
If you would like to join Girls Outside, please contact Jackie at [email protected].