The New and Improved Jean Ann Cone Library
The Berkeley insider's guide to the renovated library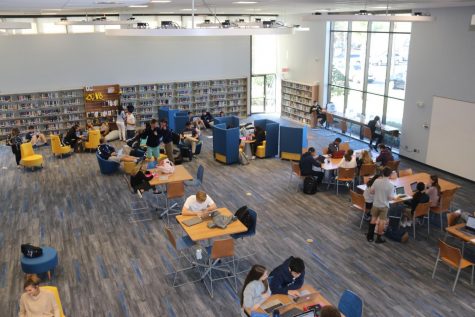 With the library renovations finished, Berkeley students have begun to hit the books in the new space. The Fanfare spoke with C.D. McLean, Director of the Jean Ann Cone Library, to learn more about the space's new changes.
The library's renovation had a strategic and specific purpose: to be the intellectual heart of school. With new buildings on the opposite part of campus, namely the Gries Center for the Arts and Sciences and the Straz Family Field House, the library renovation is meant to pull students to the center of campus, joining Middle and Upper Divisions adjacent to the mound. Another reason for the renovation was the swift change in technology throughout the Berkeley campus. The technology, coupled with a new approach to education, encouraged a new flexible and spacious workplace.
McLean said that are three main sections of the new library, catered to three different types of students using the space. The front of the library, called the Frederick Learning Commons, is intended for "boisterous collaboration." The upstairs space, also known as the McCammon Mezzanine, is used for silent study, a change from the renovation. The center of the library cultivates an "intellectual hum," where students can quietly work together. McLean noted that the seating arrangement in the center of the library changes each hour, catering to students' needs.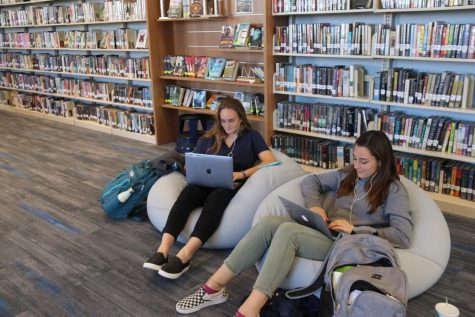 Not only is the newly renovated library modern, the space could see more upgrades in the future. McLean mentioned the possibility of a coffee bar serving fresh coffee, tea and hot chocolate, details of which are still being worked out. Adjacent to the library, pillars are being finished, and the main entrance to the library is also on track for completion. McLean said that librarians are referring to the the temporary entrance to the library as "Diagon Alley," as it was not intended to be the main entrance. The new entrance will be wheelchair accessible.
Olivia Diecidue '19 is a Student Library Proctor with a profound love for the library. She said, "I think the renovation makes it a more social place not just for studying, but a place where people can hang out and have fun." McLean has recognized Berkeley students' appreciation of the new library. When asked about her observations on the new library, McLean said, "It's been interesting seeing how students have used the space."  
For more information on the status of the Steinbrenner Student Center renovations:
https://bpsfanfare.com/9026/news/status-update-the-steinbrenner/
For more information on the history of Berkeley's libraries:
https://bpsfanfare.com/9358/features/the-library-renovations-modernization-and-its-history/