And the Oscar Goes to…
This night has been anticipated by many a talented, ambitious actor. How can one not enjoy one of the greatest live television spectacles held each year in the iconic Dolby Theatre? The glamorous luminaries grace the red carpet with statuesque poise in the hope of returning home with the most sought-after, highly-esteemed honor bestowed upon anyone who's anyone in the movies—the Oscar.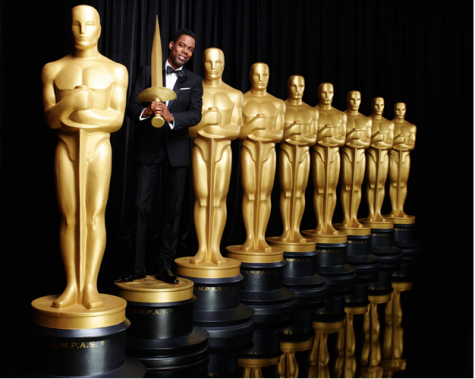 More formally known as the 88th Academy Awards, the 2016 Oscars marks the peak of film award season. This year it falls on Sunday, February 28th, and will be hosted by Chris Rock, comedian and renowned actor, for the second time. To make sure you're up-to-date, here is a list of some of the categories that will be featured this year. Introducing nominees for…
Best Actor in a Leading Role—Eddie Redmayne, Michael Fassbender, Bryan Cranston, Matt Damon and Leonardo DiCaprio
Decisions, decisions…This year my money is on Oscar veteran Eddie Redmayne for his stunning performance in "The Danish Girl." Last year, he may have won Best Actor as Stephen Hawking in "The Theory of Everything," but who's to say he can't win twice in a row? In his latest flick, Redmayne moves audiences as Lili Elbe, a Danish transsexual painter—one of the first to undergo a sex reassignment surgery 90 years ago. This role truly shows off Redmayne's venerable acting chops, proving he's capable of portraying all sorts of characters, from a genius suffering from ALS to a transitioning painter in the 1920s.
Senior Layla Ghiai, however, believes that Leonardo DiCaprio from "The Revenant" has a strong chance "because he hasn't won [an Oscar] yet." She is certainly not alone in this assumption; many others agree that Leo has waited long enough for that certain 13.5-inch tall gold figure to garnish his shelf. Leonardo DiCaprio, despite having been nominated for 161 awards (six of which were Oscars), has only won three Golden Globes and one Critic's Choice Award. As a Midwestern fur trapper in the 1800s, DiCaprio portrays the archetypal father looking to avenge his son's murder. His phenomenal performance as Hugh Glass may finally be rewarded with his first ever Oscar!
Best Actress in a Leading Role—Brie Larson, Charlotte Rampling, Cate Blanchett, Saoirse Ronan and Jennifer Lawrence
"Maybe this time it won't be Cate Blanchett," said Gabrielle Silberman '16, "even though she is the 'Adele' of the movie world." Blanchett, another Oscar veteran, is nominated for the seventh time for her role as Carol Aird in "Carol." This film tells the love story of a young aspiring photographer and another woman going through a divorce in the 1950s. Blanchett's acting accurately exposes the strife of homosexuals in that time period, while also eliciting sympathetic thoughts from audiences in her battle to keep custody of her own daughter. Already an owner of two Oscars for her performance in "The Aviator" and "Blue Jasmine," Blanchett could very well pick up a third, tying her with Meryl Streep for most Oscars won
Another strong contender is Brie Larson, who won the Golden Globe earlier this year for her performance in "Room." In the film, Larson plays Joy Newsome, a mother who lives with her son inside a dingy shed, held captive against their will. In the midst of Newsome's struggle to deal with the dark situation, Larson shines through with an inspirational rendering of a mother's need to protect her son from the evils of humanity. Although a Golden Globe already rests in her hands, this does not necessarily guarantee an Oscar win for Larson.
Best Actress in a Supporting Role—Rachel McAdams, Rooney Mara, Jennifer Jason Leigh, Kate Winslet and Alicia Vikander
Although it is sometimes overshadowed by the Best Actress in a Leading Role, the Supporting Role award is definitely an acclaimed one.  Kate Winslet from "Steve Jobs" and Alicia Vikander from "The Danish Girl" seem to be going head-to-head in the race for the Oscar. Winslet plays the role of Joanna Hoffman, Steve Jobs' marketing executive and right-hand woman. She does a perfect job of depicting the demanding (and sometimes nightmarish) task of helping Steve Jobs in his endeavor to become the Steve Jobs that we all know today—one of the most successful inventors and entrepreneurs, but most notably the CEO of Apple, Inc. Winslet is also the only woman in this category who has won an Oscar in the past for her film "The Reader," which could help her win her second.
David Ide of the Upper Division Math Department said of Alicia Vikander, "my wife said she was really good, so I'm taking her advice." Good advice, indeed. Vikander, who appeared  in four major motion pictures in 2015 alone, may also win the Oscar for her performance as Gerda Wegener in "The Danish Girl." Throughout the film, the audience witnesses her struggle to accept and support her husband's identity as Lili Elbe. Clearly, Vikander's Gerda Wegener is a strong challenger to Winslet's Joanna Hoffman.
Best Picture—"Bridge of Spies," "Mad Max: Fury Road," "The Revenant," "Spotlight," "The Martian," "The Big Short," "Room" and "Brooklyn"
So many engrossing films made the list, from historical nail-biter "Bridge of Spies" to the intriguing comedy-drama, "The Big Short." After mulling over the choices, I would have to say "Spotlight" wins my vote. Based on the real Spotlight investigative journalism team of "The Boston Globe," this film chronicles the famous sexual abuse scandal in the Catholic archdiocese of Boston. Well-crafted and full of thrill, "Spotlight" exposes this gripping scandal in such a way that some may even consider it a horror film. Plus, this film is partly based on Berkeley alumnus Marty Baron '72 (portrayed by Academy-Award-winner, Liev Schreiber), the then-editor of The Globe, who is currently the editor of The Washington Post.
Others such as Andrew Vandenberg of the Upper Division Science Department are of a different mindset. He chose "The Revenant" for its "cinematography and method of filmmaking." Despite the gruesome battle scenes (including the acclaimed bear encounter), this film is not one that audiences can easily tear their eyes away from. It has garnered much applause and many accolades, including the Golden Globe for Best Drama Motion Picture—and for good reason. The word "revenant," meaning a corpse returned from the dead to terrorize the living, serves as a fitting title, accentuating the overall brutal, ferocious tone that survives throughout the entire film—throughout Hugh Glass' determination to avenge the murder of his son.  "The Revenant" may truly steal the show.
Good luck to all the other nominees and tune into ABC on Sunday, February 28 at 8:30 pm EST to find out who will snag the elusive Oscar!