Upper Division Rallies Around History Bowl Trivia Tournament
   Throughout the week from November 9 to the 13, students could be seen devouring their meals while rushing to Gills Hall or the Jean Ann Cone Library. Crowds gathered to watch their favorite teams compete in the semi annual  History Bowl Trivia Tournament.  In the tournament, students and teachers competed in teams of up to six players, with four playing at any one time. Each round, teams were asked 27 trivia questions pertaining to topics like sports, arts, literature, science, math, pop culture, history and geography. The first person to buzz in was given a chance to answer the question; however, if unsuccessful, the other team had the opportunity to steal it.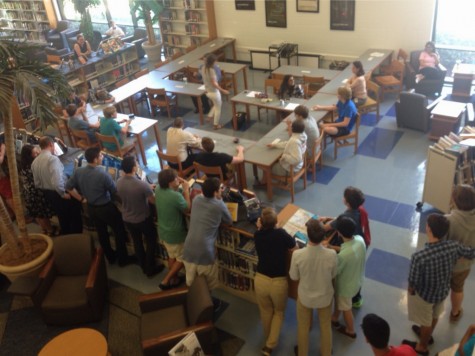 Determined visages were quickly wiped into  states of confusion as proctors delivered questions that required contestants to hunt in the nethermost crevices of their minds to find the answer that was just on the tip of their tongues.  After an intense week of competition narrowed the contestants  down to just Upper Division History Teacher Tim Torkilsen's and Middle Division Science Teacher Nicole Ackerson's teams in the finals, the curtains cleared and stage lights beamed during convocation to reveal a magnificent Jeopardy! stage, shocking both students and participants.
     History Bowl officers Maya Gandhi '16, Jack Goldfield '16, Hillary McLauchlin '16, Katie Freedy '16, Anjali Kapadia '17 and Ryan Whelan '18 worked incredibly hard to set up tables and buzzers each day and wrote countless trivia questions of varying difficulty.  According to the contestants, their hard work certainly paid off.  Jack Graham '16, a member of one of the trivia team that played in the tournament finals, said, "I loved the questions. Since they're balanced out among categories ranging from history and science to sports and pop culture, there are questions for people with any interest or skill set."
    What made the trivia tournament great this year wasn't just the creative questions–the epic final match between the remaining two teams also made the tournament a memorable event.  This year's finale included a Jeopardy!-style stage, with flashing lights and Headmaster Seivold filling in as Alex Trebek.  Lykes Center Director Chris Cook drastically improved last year's bland tables by busting out specialty lights, building special podiums and setting up Jeopardy! screens. When Courtney Beitler, Upper Division history teacher and History Bowl sponsor, was asked what the event could improve upon, she responded, "I can honestly say with this one, nothing. I think it was great. I think that the questions were good and that the students were really into it, and that we couldn't have asked for a better final."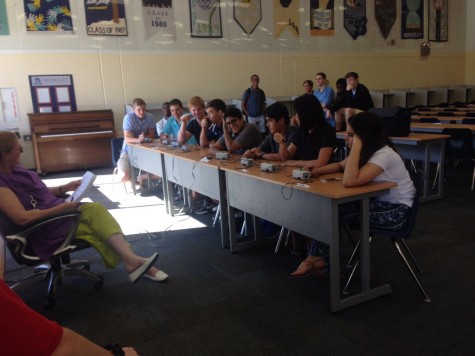 It was a good thing, too, that students enjoyed the trivia tournament this year, as the event helps raise money for the History Bowl club.  After the club was formed in 2012, club sponsors, Beitler and Upper Division History Teacher. Andre Partykevich, were inspired to hold the first History Bowl Trivia Tournament. Due to its immediate success, the tournament has become an annual fundraising event.  This year, the $5 entry fee helped raise upwards of $360 to help fund the club's trip to Washington, D.C. to compete in History Bowl Nationals in April.
     If you forgot to sign up to compete or were too busy during the week of the tournament, don't fret! Another History Bowl Trivia Tournament is going to be held this February, so mark the date. Hopefully, this year's spectacular finals inspired more students to participate in this semi-annual event. Students will be allowed to assemble the same teams, but the previous winners will be excluded to give recurring parties and new participants a better chance. Once the spring's trivia tournament is completed, the winners from each event will face off in a battle of epic proportions. What happens when an unstoppable force pushes an unmovable object? Stay tuned to find out!
Leave a Comment
About the Contributors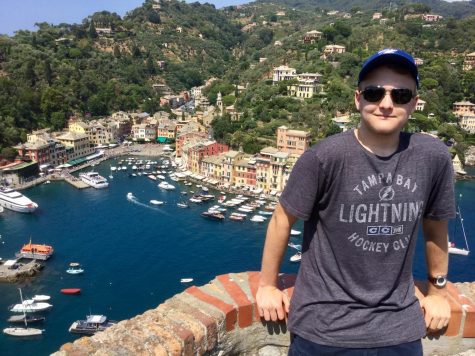 Austin Cahn, Web Editor
Austin Cahn is a Senior, the Head Web Editor of the Fanfare, a student library proctor (SLP), the Vice-President of Sequential Arts club, and in his fourth...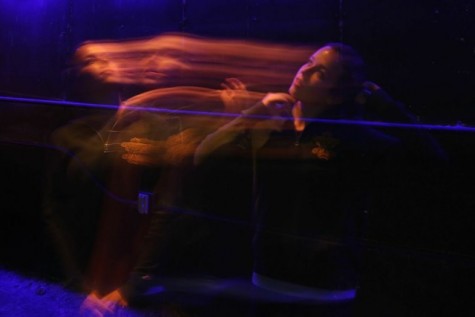 Alex Livingstone, Photo Editor
Alex Livingstone is currently flawlessly executing her job as photo editor for Fanfare during her senior year at Berkeley Preparatory School. While not...