Penelope Grapsas Welcomes the Graduates with a Heartwarming Speech
The Fanfare sat down with Student Form President Penelope Grapsas to get insight on her senior year and welcome speech
Penelope Grapsas '22, this year's Student Forum president, shares the class of 2022's passions and experiences representing the Berkeley community in this year's welcome speech.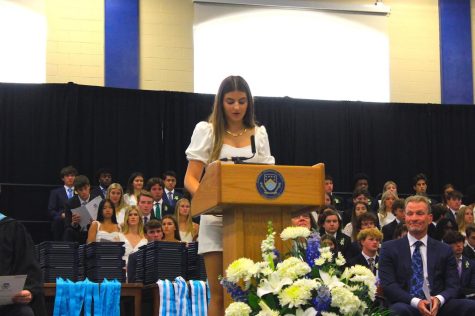 Aside from her duties as Student Forum President, Grapsas has participated in many extracurricular activities and other experiences outside of Berkeley. With her passion for academics and teaching, Penelope was a tutor for the Math Lab and the Writing Center, as well as an intern, mentor, and tutor for the Berkeley Academy. Grapsas is also the founder and president of the Mock Trial Club, and she obtained the role of Co-Director of the Grace English Empowerment Program. Over the summer of 2021, she had the opportunity to intern at the Rick Scott congressional office. 
The biggest challenge of Grapsas's senior year was Global Scholars Capstone. To assist the Grace English Empowerment program, she profusely researched the English language in historical implications of Sri Lanka, as well as enhanced English teaching methods for non-native English speakers. Her research helped to include Cognitive Academic Language Proficiency activities and standardized testing. In addition to her project, Grapsas recruited student leaders across the state of Florida, as a member of the High Schoolers for Carbon Dividends, to join in the movement for legislation that will tax carbon emissions.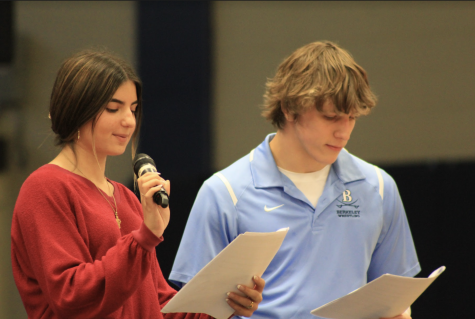 Grapsas and the rest of the Student Forum have led Berkeley Prep throughout high school years to excellence, attempting to make UD organized and fun. As an incoming freshman both new to Berkeley and Florida, Grapsas initially wanted the opportunity to assist the Berkeley community by running for Student Forum. After being elected, Student Forum allowed her to meet friends & upperclassmen and to convene with other student organizations. She became president through her leadership in proposing clubs and leading school events. For Grapsas, the role of Student Forum President was the perfect experience to complete her high school years, and giving this year's welcome speech is an extraordinary honor that she utilizes to thank Berkeley and leave a legacy for the class of  22. 
Though it is difficult to summarize the words that were shared about the graduating class, Grapsas speech focuses on each uniquely talented student living the Berkeley motto. For example, many students have an impact on the Berkeley community with accomplishments in academics, athletics and the arts.
The class of 2022 has a lot to be proud of, given all the achievements mentioned in Grapsas's speech. Their impressive successes have led them to reach their potentials and become citizens who have shaped the Berkeley community. We are all enthusiastic to see the graduates embark on their next journey and make a positive impact in the world. 
---
Read the full speech here:
Link: Welcome Speech – Penelope Grapsas
Leave a Comment