Sophia Vasiloudes Relates Chapters to Life in her Class Poem
The Fanfare sat down with Sophia Vasiloudes to get insight on her new love for poetry and meaning behind her poem
This year's senior class poet is Sophia Vasiloudes '22. After spending her whole life at Berkeley, her high school career is now coming to an end. Vasiloudes will continue her journey in New York at NYU, but will carry her high school experiences with her throughout life.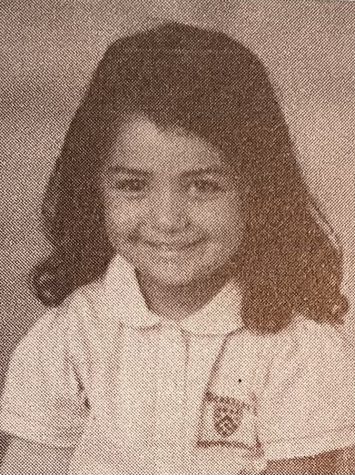 In her senior year, Vasiloudes took part in the spring play Newsies and was extensively involved in Berkeley's theater program. Nearing the end of her senior year, a new passion emerged: poetry, which inspired her to explore the possibility of becoming this year's class poet. 
In her poem, Vasiloudes uses chapters as a way to portray different parts of her life, such as elementary school, middle school, and high school, and how they have helped guide her to this point. For example, she writes, "What you know will guide you through what you don't. There's a manual hidden in the lines of Chapter 3. Use it." In this line, Vasiloudes emphasizes the fact that one lesson learned in Chapter 3, in high school or any other chapter in life, may help to guide one through a big change, such as leaving for college.
Whether it be through Eat 'N Speaks or Convocation, Vasiloudes has gotten the opportunity to publicly share her poetry with the Upper Division. As one last chance to express her voice, Vasiloudes reads her poem to the class of 22 at Commencement.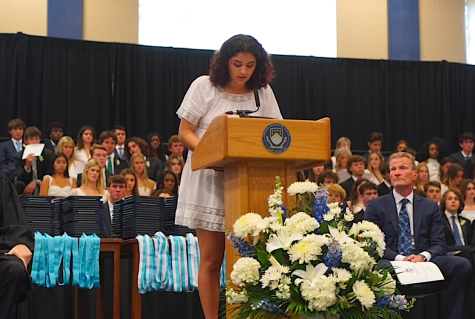 Before this, Vasiloudes was interviewed about the origins of her love for poetry, her feelings about graduating and advice for upcoming seniors and class poets. 
---
Read the full poem here:
Link: Class Poem – Sophia Vasiloudes
---
Read the full interview here:
Q: What inspired you to write your poem for Commencement?
A: I have been writing poetry a lot recently. I have never been much of a writer, but this year sprouted a new found love for writing. One they were looking for poetry speakers, I thought of it as a good opportunity to share my writing. 
Q: Throughout the poem, you reference chapters and what we can gain from them. What aspects of your life do these chapters represent? How has your high school experience reflected on your poem?
A: I split up the chapters in my poem as elementary school, middle school and high school. The first chapter is foundational where you get to meet the characters and get the basics of the story. Two and three become more creative and strain more from that foundation. In the beginning you are absorbing as much information as you can such as your ABC's and 123's like any book where you are meeting the characters and getting the basics of the story. Once you strain further from the first chapter you find more unique aspects to these characters and the storyline.
Q: In the poem you ask if the readers/listeners are prepared. Do you feel as though you are prepared for the next journey?
A: I am more prepared than I know. I would like to think I am not, but I have experienced a lot in my life and I think I am going to see things repeated that I have already learned, along with other things I haven't. I reference this in the poem, "What you know will guide you through what you don't"; I feel as though anything I am new to next year I can pull from experiences I have already had to  guide me. While I may not be prepared for specific things I see next year, along   with specific environments and situations I may find myself in, I think I am prepared with things I have experienced to a certain extent. I obviously can not be prepared for everything, but I am more prepared than I think. 
Q: How do you feel about graduating from high school?
A: It is a lot. I have been at Berkeley since Pre-K, so this is my entire life. There is a bit of excitement, as I am going to New York for college at NYU. I am going to miss how small the classes at Berkeley are, and I have always taken it for granted. I am excited for a change … There is nothing I want more out of life than to experience as many things as I can, so change is positive in my opinion. It is definitely a lot, though, especially for me because I have been at Berkeley my whole life and now I am moving and switching everything I have known.
Q: What feelings do you have about sharing your poem in front of the class of 2022? Are you nervous at all?
A: It feels good… kind of like a full-circle moment. When I first started writing poetry, my classmates were the only ones to hear it whether that was at Eat N Speak or in the classroom. The first time I started presenting my poetry I did not know if the audience would get it or understand, but whenever I presented to my classmates they were pretty susceptible and welcoming and overall supportive so I feel like they picked me as a class poet. 
Q: Is there any advice you would like to give to rising seniors?
A: Breathe. And take your time. I felt like this year I was always in a rush and always busy, but there is so much to take in and absorb. Watch movies. Read books. And just breathe. Just know that during the college process you will end up where you need to be, and a college knows you better than you know you. Even if you think it is your dream college, they will know how you fit into their environment better than you will know how you will fit into their environment. So, trust the process and yourself. And breathe.
Q: What advice would you like to share with those thinking about becoming class poets for their class?
A: I know a lot of people are nervous about speaking in front of others, but this is the last opportunity to speak in front of your class and to truly connect with them in a way that they might not have heard your voice before, and poetry is a different way to hear your voice. Everyone hears you speak in day to day life and participate in conversation in class, but poetry in terms of a creative voice is completely different, and when you get up there [on stage] it is not always you speaking.
Leave a Comment
About the Contributor
Samantha Zophin, Section Editor
This is Samantha's second year on Fanfare, and her first year as a Section Editor. She is a sophomore who started at Berkeley her freshman year. In her...