Executive Staff Farewells
Jack Mouch, Mara Xiong and Tess Fuller were all some of the best Fanfare Executives that we ever had. Jack's job in Fanfare as Web Manager was to post the documents and the articles that we saw in the last year and was a great mentor. Mara was one of our Co-Editors in Chief, which was to look over articles and our section editors as well as writing her must-reads like What Berkeley Students Think of Harry Potter. Tess Fuller was our Chief Financial Officer, which means that she was reaching out to companies and seeing how to make Fanfare a thriving part of Berkeley Society. We at Fanfare will miss these three very dearly because of who they are and what they contributed to Berkeley's community on the whole. As their farewell to Berkeley, the three of them wrote a message for us.
 Farewell
By Jack Mouch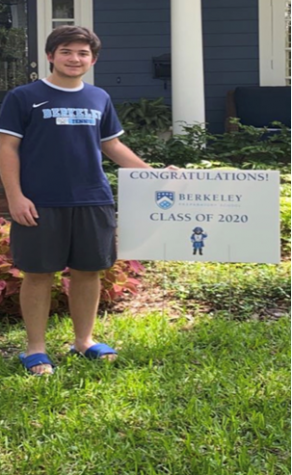 The Fanfare has been one of the most rewarding experiences I've had during my time at Berkeley. Having been on the Fanfare from freshman to senior year, I've been very lucky to have had so many transformative experiences – working with amazing and ambitious peers, writing, editing and finally publishing the articles. Seeing the writing process evolve from the start of a blank page to the end when an article is complete made me appreciate the writing process, and has reinforced my belief that writing is a true art form.
Sharing news and articles with our Berkeley community has been very rewarding, and the capacity that journalism has to enact change and share perspectives truly inspires. The fact that nationally printed newspapers have been on a decline has given me more inspiration to work with the Fanfare and should give further impetus for writers to keep writing.
The camaraderie we've developed as a team has been very special. Although it's sometimes hard to get out of bed in the morning, the morning meetings have been a testament to our goal of sharing news with the Berkeley community. Carrying a scalding cup of soup and a to-go container, I looked forward every Tuesday during lunch to hear what stories we wanted to share with our community. The idea generation at our lunch meetings sparked a special energy and creativity I will miss. Although I'm sure this void will be filled, the genuine interest other writers had in getting out a specific message has been inspiring to witness. I look forward to seeing the Fanfare's next steps!
 Farewell
By Mara Xiong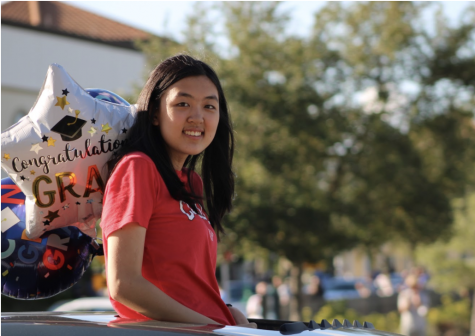 I have, and always will, enjoy taking naps.
At such an academically challenging school like Berkeley, it's always good to steal a nap once in a while. We constantly push ourselves, both inside and outside of the classroom. We go to bed at ungodly hours of the night and wake up at ungodly hours in the morning to study and complete schoolwork.
What this year has taught me, though, is that you cannot spend all your time sleeping.
My senior year was an emotionally challenging time for me. I was diagnosed with some health problems during the summer, and I often struggled with feelings of worry and self-doubt as I completed my college applications and took on a slew of APs. I lived in a constant cycle of work, stress, and anxiety, and I was constantly worrying about my future. I didn't really take the time to fully enjoy senior year or savor the "milestones" associated with being a senior.
Having had lots of time to reflect and think while stuck in quarantine, though, I have discovered that life is best lived awake and bushy-eyed, not asleep and lethargic. So, as I write my final goodbye to the members of Fanfare, I would like to offer these pieces of advice.
COVID-19 has reminded me of the fleetingness and beauty of life. You must live your life to the fullest, staying awake and savoring the moments you are living. Don't procrastinate your April Fools article. Schedule your interview earlier in the week. What you can do tomorrow, do today.
Quarantine has reminded me that in times of disaster, we can still create a new beginning. I am awed by how our staff has stepped up to the challenge of running a newspaper far from school, creating a new "beginning" while in the midst of a global pandemic. With every difficulty, there is always ease. So, don't panic right away if something doesn't go the way it's supposed to. Don't be afraid to take on new challenges.
The college process has taught me that everything will always work out in the end. It has taught me to be patient – to look at the bright side and make the most of the experiences given to me. You may be limited in what you can write about and research in quarantine, but here at Berkeley, there will always be a pathway open to you. Focus on the opportunities available to you – not the ones closed off from you.
Thank you to the wonderful Fanfare staff for shaping my development as an editor and writer. Thank you to the sponsors for serving as confidantes in times of distress. And thank you to the future members of Fanfare, for your continued drive to make our newspaper even better.
 Farewell
By Tessa Fuller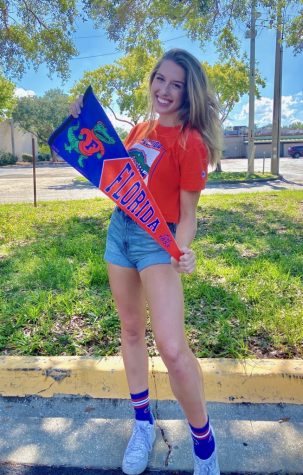 If a community is only as strong as its members strive to be, then Berkeley is a fortress built on unbelievable talent, incredible intellect, and an unyielding ambition to make the world a better place. Of course, the metaphor of Berkeley as a fortress is flawed since walls are built to alienate outsiders and Berkeley aims to unite. As a student who joined the community only four years ago, while other members joined before they could read, I never felt unwelcome. Instead, I was embraced by students, teachers, and faculty alike who taught me to treat the grounds like home and to love every Buccaneer, big or small, like family. They provided me with safe spaces, organizational insights, and enough school spirit to outshine the Friday Night Lights. There were many days that I spent over fourteen hours on Berkeley's campus, and there were even more that I spent only two, but the time I spent moving between the very large and beautiful buildings wasn't what defined Berkeley as my "home away from home." Instead, Berkeley became my home as I wrote about it for the newspaper and truly began to understand how compassion and resilience served as the community's lifeblood.
I joined Fanfare as a freshman, bubbling with ideas and eager to learn everything I possibly could about journalism so that I might eventually become Editor-in-Chief of the Wall Street Journal. My goals were humble; I just wanted to be the best writer that Berkeley had ever seen and tell stories nobody had ever heard before. However, as time progressed and my wonderful superiors bestowed their knowledge upon me, I became privy to the true, selfless nature of journalism. Journalism isn't about wanting to be the best writer, interviewer, or photographer. It's not about the journalist at all. Fanfare taught me that being a writer is about telling other people's stories with compassion and resilience, just like how Berkeley taught me to care for my community. Truly, the people I've had the pleasure of working with on the Fanfare have made me a better community member. They've dealt me strength, knowledge, and relentless passion for interpersonal connection; they've encouraged my pursuit of truth and positive change. To Mrs. McLean, thank you for taking every opportunity to show me what it means to be a good teammate and for guiding me when I've steered off-course. To Mrs. Ortega, thank you for your excitement and helping hand. To Mara, the best friendship to come out of editors' meetings, summer workshops and JEA conferences, thank you for your patience with me and for showing me how to be a considerate partner. To the Fanfare, thank you for your compassion and resilience. I wouldn't be who I am today without you all.