Humans of Berkeley: Ethan Folkman
Folkman plays the bagpipes to honor the veterans in the Tampa Bay area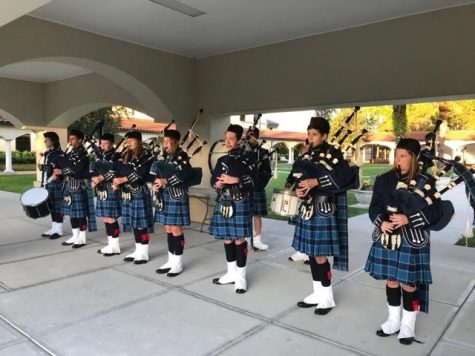 The Pipe and Drum Corps has been a longstanding tradition here at Berkeley. Dressed in blue kilts and black glengarries, they have brought the sounds of Scotland to our campus. One member of the group, Ethan Folkman '21, is honoring Tampa Bay's veterans through his music.
Q: When did you first start playing the bagpipes and what attracted you to them?
A: I started playing in 7th grade. It was just such an interesting instrument […] that I wanted to try it, and I have been loving it every since.
Q: I heard you played at a 9/11 ceremony. Could you tell me a little bit more about it?
A: About two weeks before [the event], I was invited by the Tampa Bay Veterans Alliance to play for them at the Corona Hills Memorial Gardens. Of course, I said, "Yes," and when I got there, there was already another piper who had twenty-five years of experience. They had to put us together. So I had to play first at the beginning of the ceremony and then he played at the end. So that was very interesting. It was definitely daunting performing before someone who has around 20+ years of experience on me, and though he didn't give me any advice, he told me I did well.
Q: Do you ever get nervous when you play in front of hundreds of people?
A: Absolutely. It's really nerve racking before I go out because I am hoping everything works, but then I start out well and my marching is fine.
Q: How did you calm your nerves before performing?
A: At the September 11th Memorial, there was a police officer there who led the fire department and the color guard that I was supposed to march with. And he just said, "It's going to be alright, you'll be fine." And that was really encouraging.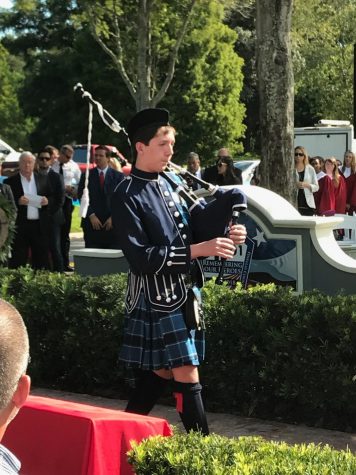 PLAYING PROUDLY: Ethan Folkman '21 plays Amazing Grace at the September 11th ceremony. (Photo by Ellen Folkman)
Q: Have you played at any other events outside Berkeley?
A: Yes, I played at a Memorial Day Ceremony the summer of ninth grade. I was invited by the Tampa Bay Veterans Alliance and I have been working with them ever since.
Q: What was the most memorable event that you've played at?
A: Probably the Boston St. Patrick's Day Parade because we were [performing] on a national scale and it was a really exciting thing to do over the first week of spring break. We play on national television and it's something I'll never forget. The crowds were massive, it seems like the whole city comes out for it. The parade is a marathon, and having a good pace is an added layer on top of marching and playing.
Q: Can you tell me a little a little bit more about the Boston trip?
A: So we leave Friday around noon before spring break starts and we get up there around 4:30 in the afternoon. The first night we […] go out to dinner at the New England Oyster House, which is the oldest restaurant in the United States. Then, Saturday we tour Boston, go to MIT [and] have lunch at a place called Mr. Bartley's. Then the following morning, we get up, we have breakfast and then we march in the parade. I do not how long it is but the year I went, eighth grade year, two years ago, they had to do a shortened parade because it was all snow. And yeah, we had a couple of snowball fights.
Q: On the Boston trip, was it very cold? Did the Pipe and Drum Corps still wear kilts?
A: Yeah it was, [but] we were actually able to get leggings. We were lucky and also got finger gloves.
Q: Were there any other high school bands at the Boston Parade?
A: I believe there are other high schools there but we're the only school that came from outside of Boston, but [they were all] marching bands.
Q: What other pieces have you played at these events and which one was your favorite?
A: As of now, I've only played Amazing Grace. I was supposed to play Hallelujah at the September 11th [ceremony], because the other Piper [was] going to play Amazing Grace. But that didn't end up happening. So I'll probably start playing Hallelujah soon, once I'm finished working with Mr. Fisher.
Q: Are the bagpipes something that you want to pursue after high school?
A: Yes, they are. I hopefully, whatever college I get into, can start a piping program there and start up a pipe and drum corps.
Q: Do you have any other hobbies besides piping?
A: I used to play the piano, I like watching hockey and NASCAR and I like to build with Legos. My favorite hockey team is the Lightning, mostly because it's the best sports team in Tampa Bay, and one of the top in the league in my opinion. I like building LEGO Star Wars vehicles, my favorite MOC, my own creation, is a miniature X-Wing.
Q: If you had to choose another instrument besides bagpipes what would you pick?
A: I would probably play the saxophone, [mostly because] I love jazz music.
Q: Have you listened to jazz music for a long time, when did you start to listen?
A: I've probably been listening to jazz since around 6th grade, for about 4 years now, and I generally listen to the jazz playlists on Spotify.