Humans of Berkeley: Michael Wax
Wax talks sports, student government and senior year.
Jack Mouch, Assistant Web Editor
September 25, 2018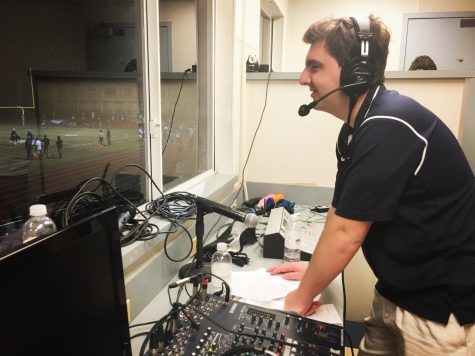 Michael Wax '19 is a longtime Student Forum representative, broadcasting aficionado and avid sports fan. Now a senior, Wax has been at Berkeley since Pre-K, and has immersed himself in student activism during his time here. The Fanfare spoke with Wax regarding his interests, time at Berkeley and  future aspirations.
Why did you get interested in Student Forum?
At the beginning of ninth grade, when Mr. VanTreese proposed the idea of people running for student government, and I had been in Student Forum in 7th grade. Initially, I wasn't really interested, but I talked to my friends who were in Student Forum and they told me it was cool to run for Student Forum, because I could make decisions that would affect others. I ran in ninth grade for a tenth grade spot and won. I decided to stay. A lot of people say it's for college, but I think giving students a voice has inspired me to be involved.
How do you think Berkeley has changed after working in Student Forum?
One of the things that I've realized is how difficult it is to change legislation. [Student Forum] allowed me to see politicians on the news and relate to their life. It gives me a taste of their profession. We have enacted some recent changes, such as new 11th grade area, which was a product of Alex Romanowski ['19]. It really is a nice area. There have been also major changes in the Bistro. We've gotten a lot of student feedback in what they like to see, which has helped us in those regards. We're trying out new things this year, and those processes are in the works.
How do you feel like you've changed after working in Student Forum?
I feel like it's given me a new perspective on what politicians go through and how difficult making change is, since there's two sides to the coin. Some things are very easy to change, some things are not. It hasn't affected my personality. Even though I'm a pretty humble person, I believe I've had the confidence to speak to people in a room. For example, I've hosted convo. Most people get nervous when they are presenting in convo, but I wasn't nervous.
Now that you're a senior, what are you most looking forward to in senior year?
I'm very excited to get the opportunity to go off-campus for lunch. I'm also very excited to be going to college in the next year, and getting accepted. I think my time at Berkeley has given me the opportunity to learn and grow. At the same time, I'm looking forward to new opportunities to going to college. Just the fact that I'll be able to cherish every moment with my friends and family, knowing that even though it won't be the last moment I see them, these are the last times we'll be hanging out, and playing sports and video games before our lives are about to change. For me, that's a really big deal.
What was going through your mind when you broadcasted your first BBN game?
I joined the broadcasting network in the 6th grade and broadcasted one event. I re-entered in 10th grade. In 6th grade, I was nervous, since it was my first time. Luckily, I had supportive friends and sponsors. It was a blur, but I just know that it must have gone well since I'm still doing it.
How can Berkeley students make an impact at Berkeley if they aren't in Student Forum?
Student Forum has always put the students first. We are accepting of new ideas. Anyone that you know who is a Student Forum member is very receptive. We want to know you guys as people, which can lead to new ideas that you have. We always have time to talk. Even though we have busy schedules, make sure to speak with us if you have a new idea. It's very helpful for the Berkeley community when a student speaks with a Student Forum member.
When did you get interested in sports?
I fell in love with most sports at around 5 or 6. I remember when my parents took me to Bucs or Devil Rays games (when they were still called the Devil Rays). I still love sports, but I want to be a more well rounded person, understanding new ideas. The [Berkeley] Broadcast Network has given me new experiences, and sports broadcasting is definitely something I could pursue in the future.  Right now, I'd say the Tampa Bay Lightning are my favorite team. I also like the Rays; they're doing some great things. Also, although I'm not a big football fan, I'm a huge fan of the Bucs.
If you have a proposal for Student Forum, you can contact Wax at [email protected]