Eighth Graders Visit Upper Division for a Day
Middle Division students experience classes by Upper Division faculty.
Eighth graders experienced a taste of Upper Division on Jan. 9 for Berkeley's annual Flip Day, where they experience what high school is like for the day. The eighth graders had the opportunity to meet the teachers and understand the layout of science, world language, math, computer science, english, history and physical education courses.
With each class they visited, eighth graders completed a 30-minute activity to understand the types of classes they can take in Upper Division. Through these activities, eighth graders also learned the differences between the two divisions and how their schedules will be laid out next year.
"I think [the schedule is] going to be a little bit confusing at first," said Isabella Parsons '22. "But once we get the hang of it, it will be nice to not repeat the same classes as often and have more freedom." Weston Poe '22 agreed, noting that he "wasn't aware of all of the course options."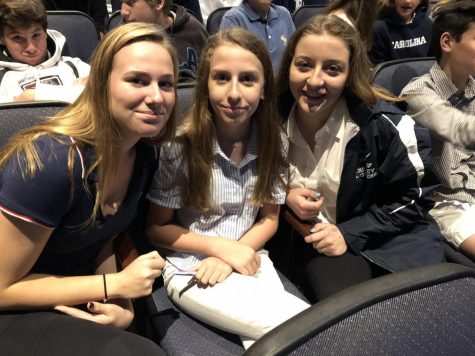 Eighth graders then experienced a question-and-answer session with high-schoolers to learn more about the upcoming four years. Though the activity was intended to open the eyes of rising freshmen about all of the privileges they would gain upon crossing divisions, many eighth graders felt overwhelmed by the amount of homework that was described at the meeting.  To offset the stress, many eighth graders showed enthusiasm for taking a summer course to include a couple of study halls in their schedule.
"I want to take religion and health so I can get it [sic] out of the way and have a study hall," said Sophia Vasiloudes '22.
After the Q&A, eighth graders moved to the Walter Deck to eat a boxed lunch that included an apple, sandwich, chips and a cookie. Faculty dismissed the students 10 minutes early to go to the Café and get some food. Nicole Ubani '22 wished the faculty would have "let us stay in the cafe for longer."
Many eighth graders seemed to see Flip Day as a beneficial way to plan out their future agendas. Others, however, felt very overwhelmed about the experience. Misha Patel '22 embodied both attitudes when she said she felt "very excited but also nervous for my freshman year." Overall, most eighth graders agreed that Flip Day was a helpful way to meet new teachers and see new classes.