Why You Should Consider the International Trips
How going abroad can expand your horizons.
Recently, the Director of the Global Scholars Program, Tim Torkilsen, revealed the list of this year's international trips including an exchange trip in China and a service trip to Peru. However, many students grow anxious trying to apply for these trips, while other students  remain on the fence about applying because international trips can be scary.
Being in a foreign country, speaking a foreign language, living with people you may not be entirely familiar with and spending time away from your family can be incredibly intimidating. Maybe you're like me (from two years ago): a freshman who's recently been exposed to exciting opportunities, but hesitant to commit to anything that might change your perspective or force you out of your daily routine. Now, as a junior, I am able to recognize how much I grew from my experience on an international trip. My one piece of advice– go for it. The opportunity to adventure somewhere new, meet new people and learn something from your trip is more than worth it.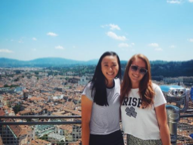 Two years ago, I was new to Berkeley Upper Division. As is the fashion of most freshmen, I was eager to sign up for every club, event or extracurricular I could get my hands on. So, when the itinerary for the Florence trip was announced, I pounced on the opportunity to go somewhere new. Right after the announcement, I snagged one of the few forms left and texted my parents immediately. For the next week, I did all my chores, helped around the house and made sure my grades were stellar all so my parents would sign the form. That was all it took; I was going to Italy!
Throughout the rest of the year, it was easy to put the Florence trip in the back of my mind. When the end-of-the-year thoughts began to loom–exams, scheduling for next year and the Florence trip– reality began to set in for me, and along with it, the panic. I was going away for an entire month. Although I had my final exams to distract me for awhile, the day of departure finally came. As the group stood in the airport terminal, our parents waving to us as they retreated back to their awaiting cars, panic overtook my mind. Suddenly, I didn't want to leave America and I didn't want to abandon the safety of comfort I was so accustomed to.
The turning point came for me as we boarded our bus in Rome, loading our bags onto the vehicle and sliding into our seats. Panic soon turned into eagerness. For the next few days everything was marked with excitement: sightseeing in Rome, traversing the countryside to Florence, moving into our apartments, meeting our Italian teachers and so forth. My experience was truly magical; the kind of thing you see in movies. Memories that will truly last a lifetime were made, and I can honestly say that, thus far, the Florence trip was the best time of my life.
Reflecting on the Florence trip two years later, I now recognize all the life lessons I learned from doing my own laundry to buying my own groceries and cooking my own meals. I didn't even know all the girls staying in the apartment with me when I first arrived, but to this day I still remain close with them.
So to any of you considering an international trip, I say this: Do it. Go on an adventure of your own and make it the best it can be. Most importantly, broaden your horizons. because that's what this whole experience is about.