Eighth Graders Invade Upper Division
What the eighth graders did while the ninth graders were off campus.
On January 9th, 2018, Berkeley's eighth graders spent a day in the shoes of the freshmen, who were away completing a community service project at Redlands Christian Migrant Association's (RCMA) Wimauma Academy. Excited to be out of their Middle Division uniforms, the eighth graders arrived at school on Flip Day and embarked on their half-day preview of Upper Division. The students attended six 30-minute classes, where they met Upper Division teachers and participated in prepared activities.
During convo, they had the chance to see the Mello Divas perform. Sutton Johnson '22 noted how different Upper Division convo is from Middle Division convo. She said, "It was kind of cool how people were casually speaking from the side of the stage." In Middle Division, announcements are given from a podium on-stage, rather than student leaders making announcements by the steps to the stage, on the same level as students in the audience.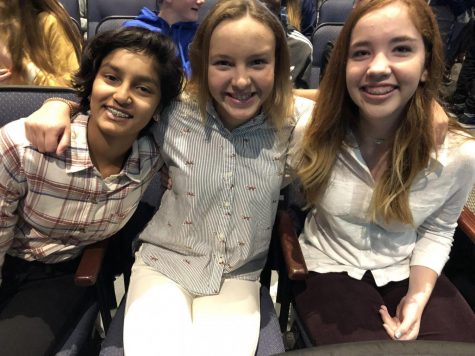 The students were also able to ask a panel of current tenth, eleventh and twelfth grade students about life in the Upper Division. Questions regarding after school activities and workload popped up from the group of 116 eager 13 and 14 year olds. They then returned to their normal school day for the afternoon.
Lilly Paggio '22 felt there was "a lot more moving in the Upper Division," due to the classrooms being very spread out. Despite the long-distance walking from class to class, Kyle Matton '22 was pleasantly surprised by how nice and even-tempered the teachers were. After the day was over, he said that he had "expected it to be a lot more stressful." Samia Diasti '22 was  happy to see that just like Middle and Lower Division teachers, Upper Division teachers want to help their students to succeed.
Johnson said as she reflected on the day, "Flip Day made [me] look forward to going to Upper Division even more, because of how the teachers are so nice, and because there are so many new classes."