Cozy Recipes for the Fall
Celebrate the fall aesthetic by enjoying some easily made treats
Welcome to Pumpkin Spice Latte Season! Although Florida does not visibly change from summer to fall, you can definitely feel the difference. I don't think anyone will disagree when I say the best part about fall is the food. Flavors like pumpkin, apple, cinnamon, maple and cranberry are the tastiest of the year. Plus, there is nothing better enjoying your own homemade autumn treat. You can use these recipes when it is your turn for advisory, or if you want to do a fun fall activity this weekend.
Caramel Apple Milkshake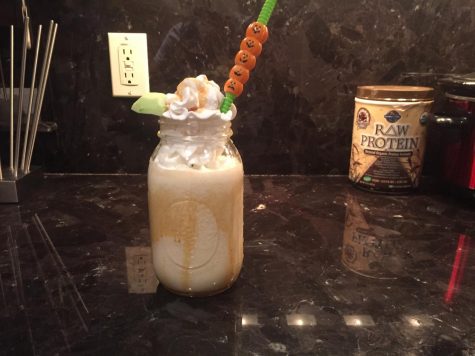 Ingredients
Makes: 1 Milkshake
2 cups vanilla ice cream

1 ½ cups apple cider (juice will work, but cider is better)

1 Granny Smith apple, peeled, cored and chopped – plus more for garnish, if desired

¼ cup Caramel Sauce plus a bit extra for garnish

Whipped cream
Instructions
Add the ice cream, apple cider and caramel inside a blender

Blend completely

Add apple chunks and blend until combined

Spoon some caramel sauce into your cup

Pour the milkshake mixture on top of the caramel.

Garnish with an apple slice, whipped cream and additional caramel sauce

Enjoy!
This fall recipe is a delicious alternative for those who do not like pumpkin spice. If I were to make this recipe again, I would use less apple cider. About 1 or 1 ¼  cup is a good amount for those who do not love it. The good thing about this recipe is that it is easy and flexible, so you can adjust the ingredients to your liking. I am a big fan of caramel, so I added more than the recipe called for. It still tasted great! Special thanks to the mind behind My Organized Chaos, Tammi, for this recipe.
Link: http://www.myorganizedchaos.net/2015/09/caramel-apple-milkshake
Pumpkin Nutella Muffins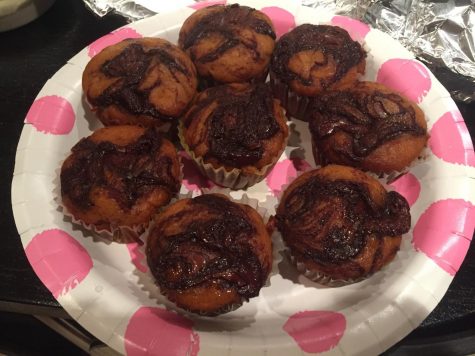 Ingredients
Makes: 18 muffins
1 cup pumpkin puree
2 eggs
1/2 cup canola or vegetable oil
1 cup granulated sugar
2 1/4 cups flour
2 teaspoons baking powder
1/2 teaspoon salt
1 teaspoon cinnamon
1 cup milk
1/2 cup Nutella spread
Instructions
Preheat the oven to 350 degrees
Spray a muffin tin with non-stick baking spray
Add the pumpkin, eggs, oil and sugar to a large bowl and mix together
Stir together the flour, baking powder, salt and cinnamon
Alternately add the flour mixture and milk to the pumpkin mixture until incorporated
Spoon the muffin batter into your muffin pan
Place the Nutella in a microwave safe bowl and heat for 20-30 seconds
Stir until creamy
Drop spoonfuls of the warm Nutella in the center of each muffin. Use a toothpick to swirl the Nutella gently on top
Bake the muffins for 20-22 minutes. Remove and cool in the pan for two minutes, and then remove to a wire rack to cool completely
Enjoy immediately or store in a sealed container
This recipe has to be one of my favorites. These muffins are perfect for all pumpkin and Nutella lovers like me. It is not that hard to make these, but this recipe definitely takes longer than the milkshake. If you want to add more Nutella, fill the muffin tin halfway with batter, and add up to one tablespoon of Nutella.  Next, return to the recipe's instructions and fill the pan with the remaining batter. I also used cupcake liners for my muffins, so they come out of the pan much easier. Thanks to Jocelyn from Inside BruCrew Life for this recipe.
Link: http://insidebrucrewlife.com/2012/10/pumpkin-nutella-muffins/#_a5y_p=5707027
If you have a chance to try any of these recipes, I would love to see the results. Please email me at [email protected] or comment below.