Oven-Free Recipes for a Year-Round Holiday Season
Make it feel like the holidays whenever you want with these sweet recipes.
Here in Florida, the seasons can feel like they blend together. After the Sunshine State's winter season came and went, I still missed my favorite holiday season comfort food. I tried three quick and easy recipes that do not require an oven. Even as April showers bring May flowers, you can still satisfy your cozy winter sweet tooth with a Nutella Mug Cake, Movie Night White Chocolate Popcorn or Hot Chocolate Fudge.
Nutella Mug Cake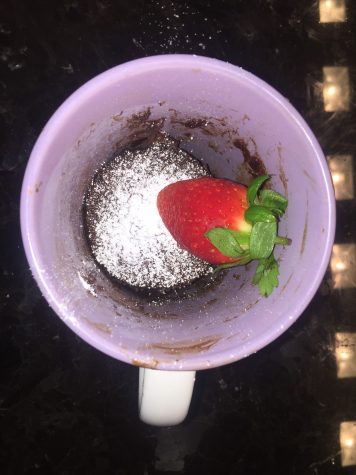 Ingredients
1/4 cup Nutella
1 large egg
1/2 Tbsp dutch processed cocoa powder
Instructions
Combine all ingredients in an oversized microwave-safe mug. Mix vigorously with a small whisk until batter is smooth and egg has been completely mixed in.
Cook in microwave for about 1 minute 10 seconds. Cake should be set but may be slightly wet on top. Let cake cool for 15 minutes before serving. Cake will condense down during this cooling process. You can replate in a smaller mug/plate/ramekin before serving. You can top with powdered sugar, chocolate syrup, your favorite flavor of ice cream, whipped cream or fresh fruit
Thank you to Kirbie's Cravings for the original recipe: http://kirbiecravings.com/2015/03/3-ingredient-flourless-nutella-mug-cake.html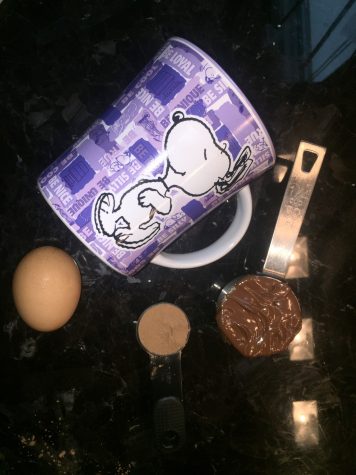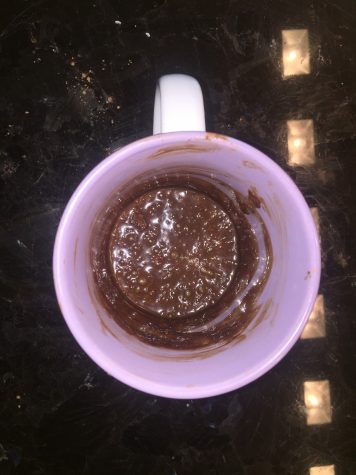 I get dessert cravings sometimes, so I found it really simple and it took me about five minutes to whip together. It was a nice gooey consistency in the middle and the outside was not dense, but it was not falling apart either, so I really liked that. It was a little bitter from the cocoa, so I suggest topping it off with one of the toppings I mentioned. But other than that it was really good.
Movie Night White Chocolate Popcorn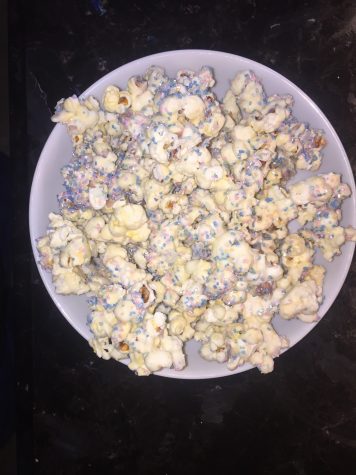 Ingredients
7 Cups popped popcorn
12 ounces melted and tempered white chocolate or melted white confectionery coating*
1/2 Cup blue sprinkles
1/4 Cup candy snowflakes
*For really bright white popcorn, use Bright White Candy Melts.
Instructions
Line a baking sheet with parchment paper.
Pour popcorn into a large mixing bowl.
Pour white chocolate over top.
Quickly stir it and toss it to coat the popcorn.
Pour out onto the baking sheet and immediately toss the sprinkles and snowflakes over top.
Whack the pan on the counter a few times. This helps get the candy to stick.
Refrigerate for 10 minutes.
Remove and break up into bite size chunks.
Thank you to Beth from Hungry Happenings for the original recipe: http://hungryhappenings.com/2015/12/winter-wonderland-white-chocolate-popcorn.html/?utm_source=feedburner&utm_medium=feed&utm_campaign=Feed:+hungryhappenings/naJY+(Hungry+Happenings)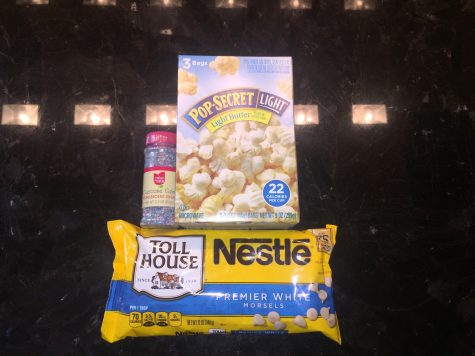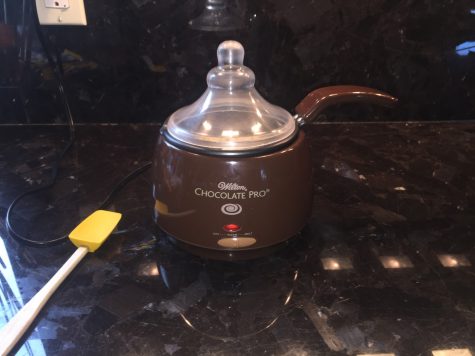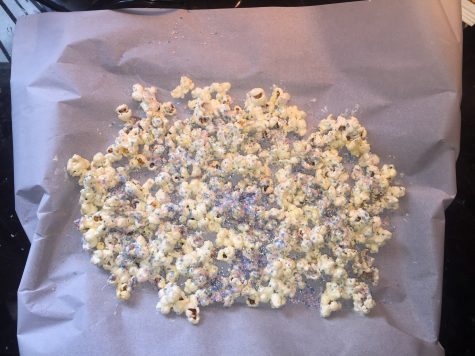 I thought these were amazing! I am normally not the biggest fan of white chocolate, but this recipe was my personal favorite out of the three. Instead of grabbing handfuls of traditional popcorn, this white chocolate snack breaks apart like peppermint bark, which makes for easier snacking. This recipe is also customizable with a choice of sprinkles or adding your favorite candies.
Hot Chocolate Fudge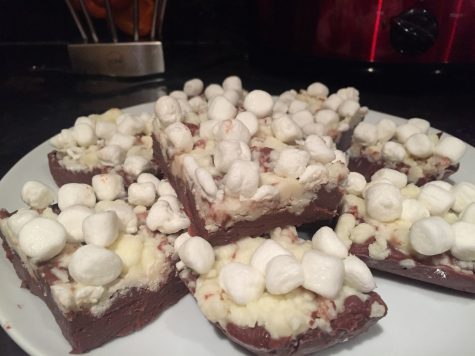 Ingredients
2 Cups dark chocolate chips
14 ounces sweetened condensed milk – divided
1½ Cups white chocolate chips
1½ Cups mallow bits (mini hot chocolate marshmallows)
Instructions
In a microwave-safe bowl; combine white chocolate chips with 3 tablespoons of sweetened condensed milk.
In a separate bowl, combine dark chocolate chips with remaining sweetened condensed milk.
Line a square 9×9 pan with foil and generously grease with butter or shortening.
Microwave dark chocolate 1 minute, stir. Microwave 15 seconds then stir vigorously until chocolate is smooth. Transfer mixture into prepared pan and spread into an even layer.
Microwave white chocolate 1 minute. Stir until smooth. Spread mixture on top of dark chocolate layer.
Top with mini marshmallows then gently press down.
Refrigerate at least 4 hours to set.
Remove fudge and foil from pan. Carefully peel all foil from fudge.
Cut fudge into bite sized pieces and serve.
Thank you to Nicole Harris from Wonky Wonderful f or the original recipe: http://wonkywonderful.com/hot-chocolate-fudge-recipe/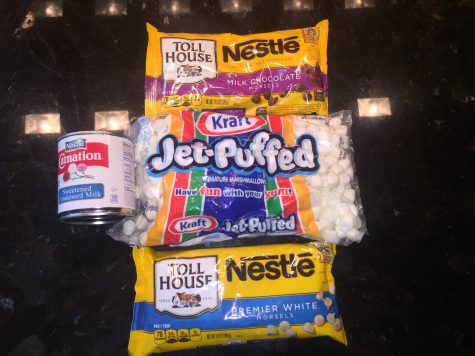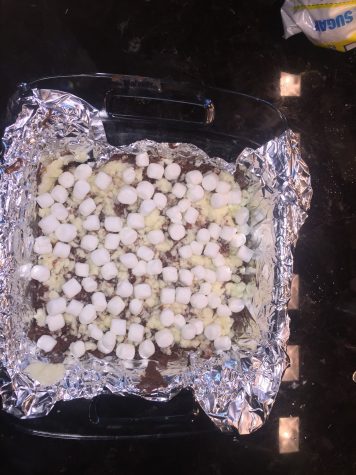 These treats are great in small portions, but too many may give you a stomach ache. I decided to cut the fudge in small squares.
You can use these recipes when it is your turn for advisory or if you feel like cozying up with some comfort food this weekend. If you have a chance to try any of these oven-free recipes, I would love to see your results. Send me pictures of your creations at @BPSfanfare and other recipe ideas at [email protected].