Can You Escape?
An inside look at the Great Escape Room.
Do you feel like becoming the next Sherlock Holmes? Upper Division freshman, Leana Fraifer, certainly felt like it. Fraifer spent her four-day weekend at the Tampa Bay Escape Room, a real-life escape game in Clearwater, Florida. In the game, she and her friends were locked in a room with a series of seemingly disconnected clues and puzzles that gave the passcode to a locked door, which they had one hour to open. Fraifer sat down with The Fanfare to chat about her experiences in the Great Escape Room.
Q: How did you like the Tampa Bay Escape Room? Would you recommend it to anyone?
A: I really liked it, it was a lot of fun, and I would definitely recommend it to people. It's a lot of fun to do with your friends, even if you get a little frustrated.
Q: On a scale of one to ten, with one being the easiest and ten being the hardest, how would you rank the difficulty of trying to escape, and why?
A: About 7.5, because it was really intricate. There were so many locks and combinations that you had to find, and there were times when we got stuck and couldn't think of anything. If it weren't for the three hints that the guy gave us, I don't think we would've made it out.
Q: Did you and your friends manage to escape?
A: Yes, we did, with 28 seconds left.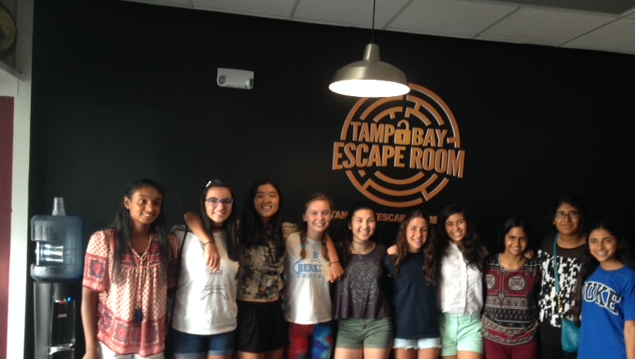 Q: What was your favorite part of the escape room?
A: I liked being there with my friends. Even though my brain hurt afterwards, it was fun getting to do stuff with them. I also personally like problem-solving, so it was cool trying to figure out some of the clues.
Q: Would you ever want to go back to the Great Escape Room?
A: Yes, of course! I'm actually planning to do something similar for my birthday with my family.
If being locked in a room with intellectually stimulating challenges interests you, definitely check out one of the many escape rooms around Florida. For more information on the Tampa Bay Escape Room, visit http://tampabayescaperoom.com or call 727-240-1797. Book a room with your friends for only $28 per person. Take a risk and discover your inner daredevil.