Un Viaggio in Italia (Translation: Berkeley Students Study in Italy)
Students earn an art credit for studying in Florence, Italy.
September 7, 2016
Italy is known for its rich history, especially in art. What better way to earn an art credit than by going to Italy and taking art classes? That's exactly what 30 Berkeley students did this summer. Oh! The Places You Should Go showcased a once-in-a-lifetime trip this year — a study abroad trip to Italy. Students on this trip spent almost a month living in the heart of Florence, taking art and photography classes.
Students spent their month in Italy taking six hours of classes during the weekdays and traveling on the weekends. In the morning, students would take three hours of art classes, and in the afternoon, they took three hours of photography classes. Students didn't just stay in a classroom — they also had the ability to visit the city of Florence, taking photos of the beautiful city and visiting museums to sketch. Some places they were able to visit were the Uffizi Gallery and La Specola Museum. This interactive experience allowed students to not only to learn a huge array of subjects, but to also take in and enjoy the culture of Italy. Many students kept the drawings and pictures as mementos of their trip. For some of the students, these classes proved to be some of the best things that they did. Sarah Anthony '18 said that her final photography presentation was the highlight of her trip. For Sabrina Vergara '19, the best part of her trip was learning new art techniques. "First," says Vergara, "we learned how to capture movement and position through gesture style drawings. Then we focused on developing different parts of the body. Finally, we put it all together and worked on people in perspective environments." Through practicing all of these different techniques and developing their own styles, students earned an art credit that went towards the requirements needed to graduate.
Students spent the weekends exploring Italy outside of Florence. They were able to visit Rome, Venice, Siena and Cinque Terre. For most kids, their favorite place to visit was Cinque Terre, home to five beaches. For Alicia Rose '18, it was "very enjoyable relaxing with friends." Erika Kudryk '18 also agrees, noting that the beaches of Cinque Terre were the best part of the trip.
Students were able to climb the Duomo in Florence, from which they were able to see the entire city of Florence. For Cameron Giles '18 and Jessica Cascio '17, this climb was their most memorable moment.
Aimee Laxer '19 also enjoyed the Duomo area, particularly the shopping and food. For Matthew Bekesh '18, his favorite part of the trip was all of the good food. Students were able to enjoy classic foods such as pasta, margherita pizza, bruschetta, gnocchi and — you guessed it — gelato! Students' favorite gelato flavors are listed below. The Berkeley kids discovered that a gelato shop called Eduardo's was a number-one place to be. "Everyone had gelato daily, and towards the end of our trip we would get gelato twice in one day," said Karina Barcenas '18. "It was worth it," she said.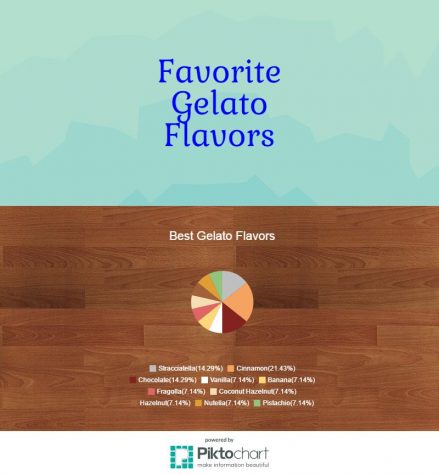 On their trip, students were able to stay in apartments with their chosen roommates. For Kaylah Lue '18, being in an apartment with her friends "was a really cool experience."  Emily-Elizabeth Grams '19 believed that "by the end of the trip it was like our apartment groups became a family."
This trip to Italy was a success, and every other year, Berkeley holds this trip for those interested. These students not only developed their artistic skills, but also grew closer together as they discovered Italy. It's an experience that you should definitely take advantage of while you can.