Annual Cookie Extravaganza is a Treat
From grading endless papers to supervising students at pick-up and drop-off, teachers have a lot on their plates.  But at holiday time, teachers can put something sweet on those plates at the annual Cookie Extravaganza put on by the Berkeley Parents' Club. On December 2nd, approximately 160 volunteers baked and set up nine thousand cookies in the Aye Arboretum as a special thank-you to Berkeley's hard-working faculty and staff.
Teachers are grateful for these sweet treats.  Upper Division Math Teacher Ryan McLaughlin said, "My favorite part [of the Cookie Extravaganza] is feeling very appreciated and cared for by the Parents' Club. As teachers, we're so blessed to be a part of a community that truly values what we do and supports us."  Stephanie Estes, a Middle Division English teacher, is also thankful for the generosity of Berkeley's parents.  Estes said, "I think it is very special, knowing so many families took the time out of their busy lives to show their apapreciation for the faculty. I love the whole experience. Eating them is never too painful either!" While Estes enjoyed her plateful of cookies, her husband, Middle Division History Teacher Corey Estes, was not so lucky.  He was home, taking care of the couple's son, Colby, who had a cold. He said, "My favorite was the half of an Oreo someone left in the fridge for me."
For a new teacher, the Cookie Extravaganza is a pleasant surprise. Middle and Upper Division Librarian Christina Arcuri said, "My favorite part about the Cookie Extravaganza is seeing the faces of the new faculty and staff the first time they look upon the stunning decorations and fantastic spread that the parents so kindly lay out for us each year. They're like children on Christmas morning who have just seen what Santa brought them under the tree. It never gets old."  Upper Division English Teacher Kate Muttick is new to Berkeley's faculty this year, and she was very impressed by the parents' generosity.  Her favorite part of the event is being able to look forward to the holidays with her students.
Each teacher who attended the extravaganza had his or her own favorite cookie. For McLaughlin, it was the Greek wedding cookie, made by the Koulianos family, while Upper Division Spanish Teacher Luz Marina Engel-Peñaloza enjoyed the macadamia white chocolate chip cookie the most. Estes' favorite treats were the chocolate-covered cake pops with silver balls on top, and Middle Division English Teacher Sandra Lake particularly enjoyed the buckeye, a peanut butter ball covered in chocolate.  Arcuri did not have one particular favorite cookie. Instead, she said that her favorite was, "every single shortbread cookie I could get my hands on!" She added, "I love having them with my tea in the afternoons."
When the Cookie Extravaganza was finished, organizers needed to figure out what to do with the leftover cookies. Upper Division students were happy to help solve the problem! At the end of Upper Division lunch, students flocked to the extravagant display to fill up their goodie bags with the leftover cookies.  Muttick was generous enough to share some of her cookies with her sophomore students.  Engel said that sharing cookies with her family is one of her favorite parts of the event.  As always, the Cookie Extravaganza was a fun, delicious event that put the entire Berkeley community in the holiday spirit.
Leave a Comment
About the Contributor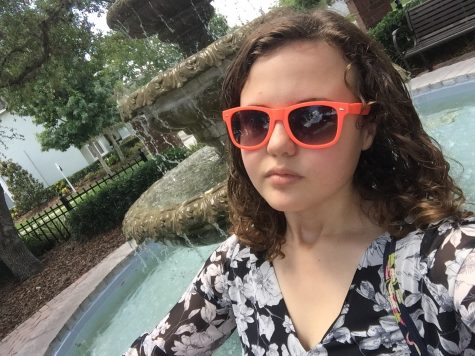 Isabella Schlact, Co-Editor-in-Chief
Isabella Schlact is a senior who has been at Berkeley since Pre-K. She loves improv acting and writing. Isabella also enjoys watching The Office with her...