Paris Attacks Leave Their Mark on the Berkeley Community
     One of the deadliest attacks in France since World War II, the November 13 Paris attacks will not soon be forgotten.  Civilians were attacked in a Paris; 130 were left dead, including 89 at the Bataclan Concert Hall where the American band Eagles of Death Metal was  performing.  Those dead came from at least fifteen  different countries including the United States, which lost Nohemi Gonzalez.
     At Berkeley, many of us are lucky– we don't have to suffer and grieve to the extent that many Parisian families have been experiencing ever since the attacks.  However  one Berkeley student from France, Charly Pollet '18, tells another story.  His story shows the impact of  this terrible international tragedy on such a local scale.It was just another regular day for Pollet.  "I was in the car," he said, "and I was reading CNN on my phone."  He was heading home from school just like many of us were at the time.  "When I heard about it, I was like no, that's impossible."  He doesn't hesitate to say that his mind went immediately to his friend.
     Pollet's friend told him that "he was about to go to the Bataclan," the concert hall where almost 90 people died that night.  Like anyone in this situation, Pollet became extremely worried when he heard about the attacks. "I was just calling and calling," he said, as he contemplated the well-being of his friend. "[I] was just asking if he was okay."  Luckily for Pollet, his friend was alright– "he just canceled the concert for whatever reason"– the relief in Charly's tone is apparent  as he tells the rest of the story.
     Like many others, Pollet first felt sadness, explaining that "for the first day and the first night I was very sad."  He needed the proper time to grieve for all of the losses.  He heard the speech from Chaplain Carey, saw the "Peace for Paris" sign so many of us have on our Twitter and Instagram feeds, and he watched all the candlelight vigils highlighting the news. However, after grieving, Pollet felt anger and helplessness for what had happened.  "The day after the bomb attack," he says, "my grandmother called me.  She said, 'you know, Charly, I don't want the war to start again.'  And when an 82-year-old woman tells you that, you just don't know what to say or do."  After speaking with his grandma, Pollet realized that "there was something we had to do."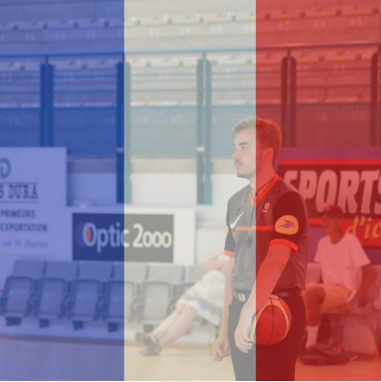 And what is that, you might ask?  How can we, a small school in Tampa, Florida, make a difference in the wakes of these attacks?  Pollet's answer is simple:  "just keep smiling and staying informed about what's going on."  He chooses positivity, and encourages every Berkeley student to smile, even after  hard events, and most importantly, when smiling seems impossible.  He also urges Berkeley students to stay up to date with the news and current events, and to not get caught up in the "Berkeley bubble" that many of us find ourselves trapped in.
     The Fanfare strives to provide Berkeley students with important information that can help them stay informed.  The Paris attacks were not the only recent tragedies that have taken the lives of innocent people. On November 12, just a day before the Paris attacks, Beirut, Lebanon, witnessed two suicide bombings and the deaths of 40 people.  This attack was claimed by ISIS.  In Marseille, France, a Jewish teacher was stabbed by ISIS supporters on November 18.  On Friday, November 20, over 170 people were taken hostage in the Radisson Blu Hotel in Bamako, Mali. Twenty individuals  died during  this  hostage crisis.  
     If you are asking why this matters, there is a simple answer.
     Staying informed makes a difference.  The Paris attacks have left their mark on the Berkeley community, but what about the attacks in Lebanon?  By staying informed, students at Berkeley can have  educated responses  when asked about certain events.  Even more importantly, these students can reach out to friends who might have been affected by any disasters.
     Pollet was affected by the recent Paris attacks, but he isn't the only one.  If you know someone who may have been affected by any of the recent terrorist attacks, reach out to them.  You might just make their day.