Berkeley Buccaneers Prevail in 42-0 Victory at Tailgate
Congratulations to Berkeley's varsity football team for playing their hearts out at tailgate.  In an epic battle against the Miami Community Charter (MCC) football team , the Berkeley Buccaneers led a clean sweep with a 42-0 victory on Friday night. With players like  running back, Jakob Hines, '19, wide receiver, Joshua Youngblood, '19,  middle linebacker, Michael Fruit, '18, and senior wide receiver, Jacob McCarron-Mathis, as well as many others, there wasn't much doubt for a potential win!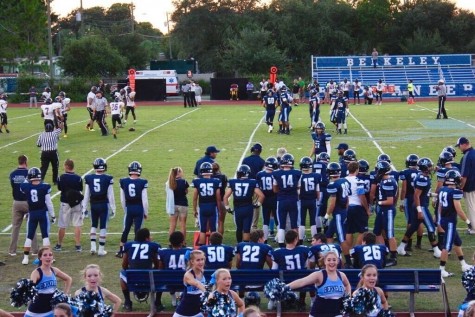 Tight end Peyson Hunt '16 and Head Coach Dominick Ciao both agreed that the best part of the game was seeing every member of the team have the opportunity to play that night. "That was really special," said Ciao. Hunt and Youngblood were both confident that a win was in sight, with Youngblood crediting the football team's incredible coaching staff and hardworking athletes for the epic victory.
Both players also agreed that the most electric part of the night was when  Zachary McCarron-Mathis, '18, made an interception in the end zone while Miami Community Charter was in the red zone for the first time during the game. Fullback Mateo Estrada, '19, on the other hand, thought that the most electric part of the game was when the team used the Bonsai Formation, allowing Matthew Bekesh, '18 to intercept the ball. "My favorite part [..].was after the game because we had a huge celebration in the locker room and it was a huge rush," noted Estrada, adding  that he also enjoyed the intense hype of going onto the field.
Overall, the  team did a great job securing a victory. Youngblood , Estrada  and Hunt all agree that by working hard, keeping up with the techniques that they've been learning and practicing every day with determination to improve, the varsity football team can confidently plan on having another successful win in any future competition.
About the Photographer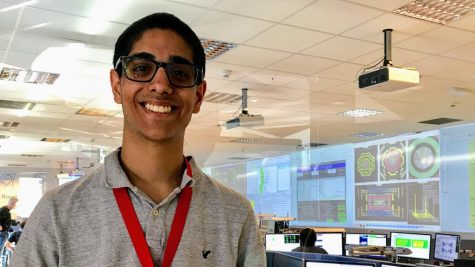 Arjun Gandhi, Web Editor
Arjun is a senior at Berkeley this year. This is his seventh year. This is Arjun's third year on the Fanfare. In the past he was a photographer and the...