Berkeley Athletes Step Up Their Game Over the Summer
While some were watching Netflix or tanning by the pool, Berkeley athletes were using their summers as an opportunity to train for their sports seasons. Between attending team camps or training to improve skills, our athletes are more than prepared to make the 2014-15 sports seasons their best one yet.
The summer is a great time for athletes to work on improving their game. Sammie Lee, Class of 2017, went to a golf intensive camp for three weeks and said that "[she went] out on the range in the morning for three hours." While working every morning on the range, she was able to perfect her drive. This skill is sure to aid her in the upcoming season.
Additionally, Madison Jenkins, Class of 2016, used her summer to improve her volleyball skills. She said that she aimed to work on her passing and that she "did drills over and over again, working on that skill." Even though she is an outside hitter, passing is a skill that will definitely help her up her game this year.
Moreover, Berkeley athletes also spent their summers working together to focus on becoming cohesive units. Keating Mosher, Class of 2015, worked a lot with the swim team during his free time: "We practice [from] 6:00-8:00 a.m. every morning and from 4:00-6:00 every afternoon. So we practiced a lot more than usual to prepare for the high school season." The swim team did not take any breaks. Not only did they practice intensely, much of the swim team participated in Berkeley's club swimming program over the summer, the Berkeley Barracudas.
The cross country team also did some major team bonding over the summer. Caroline Brown, Class of 2016, said that her training included "attending a week-long running camp in North Carolina with seven other members of my team." During the camp, the team trained on hills and in high altitudes. The high altitude of running camp allows for runners to come back to Florida and decrease their times as they reacclimatize to the easier to breathe Florida air.
All of the training done this summer is leading up to the big goals that were set this season.  Sammie Lee said that she would like to have consistency in her golf game. She also mentioned that she would like to take her team back to states and place well there. Brown said that she would like to make it back to cross country states as well, and bond with her team along the way.
All of the work done over the summer will culminate in the upcoming seasons. Our athlete's hard work will steer them in the right direction as they embark on the 2014-2015 athletic year.
Leave a Comment
About the Contributor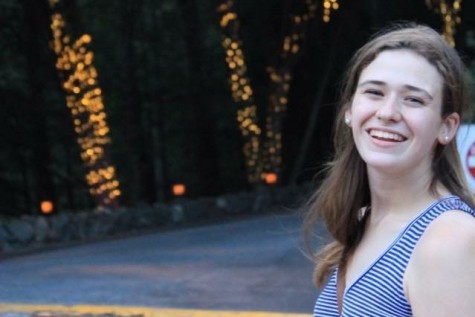 Katie Freedy, Staff Writer
Katie Freedy is a senior, a previous Sports Editor, and currently a staff writer. If you need to find her you can find her running around campus (possibly...