Saying Hola and Bonjour to Profesora Akers
Profesora Akers shares her inspirations and grows her mind as a teacher, traveler, musician and lover of the outdoors
From the time she was a child, Joana Akers has been learning languages. To date, she speaks English, Spanish, Italian, French and ISS—or International Sign System. She enjoys traveling, spending time outdoors, teaching and music.
When asked who inspires her, Akers includes Sonia Sotomayor, Hellen Keller and her mother. Growing up, her mother immigrated from Spain and married her father who was in the Air Force. Her family lived in many different countries for his job.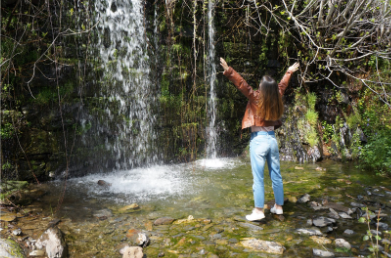 "You know, [my mom] had to leave her country Spain," she said, "and she didn't know how to speak English. She left everything behind. My father was gone sometimes, on missions and she was alone with two kids, in a completely new country, and she kept changing countries. She's a great mother and a great friend. I'm inspired because I want to be a good person." 
Akers has taught many different age groups. She started in kindergarten, then moved to teaching college and then high school. She explained that while teaching pre-k, she loved using her imagination and feeling like she was revisiting her childhood years. After that, she was a college professor while not being too far from being college-aged herself, so she could put herself in their shoes. This year is her first teaching high school, and Akers shared that she is learning how teenagers adapt and interact with each other. She said her favorite part about teaching is that it is never boring and that she learns something different from each student.
"I love music," she said, while discussing hobbies. "I've been singing since I was little. I was in a jazz ensemble in college and musicals when I was in high school. But recently, I taught myself how to play the uke during the pandemic. It's something that brought me peace."
As a world-traveler, Akers shared her recommendations on the best countries based on different categories. 
Best food to Italy: "I ate so much pasta, really good pizza and calzone." 
Scenery to Sweden: "It has really nice scenery and a lot of vegetation. Cold, but beautiful. Not great food, though, it's just like: potato, potato, potato." 
But she feels she learned the most in "either France or Italy because I lived there. That's where I learned French and Italian. I lived in Italy with my family, but then I lived in France alone. So it helped me grow."