Meet Mr. Wahlgren!
Welcome Kurt Wahlgren to Berkeley!
Kurt Wahlgren, otherwise known as Mr. Wahlgren, grew up in Minnesota; however, he spent most of his school life in Cleveland. While at Bowling Green State University for undergrad, he studied secondary social studies education. He later went on to study U.S. and transnational history at Central Michigan University in graduate school. Wahlgren is currently working on his second masters through the University of Illinois. Aside from Minnesota, Cleveland and Michigan, Wahlgren has also lived in South Carolina, Taiwan and Morocco. He and his wife have a one year old son named Teddy.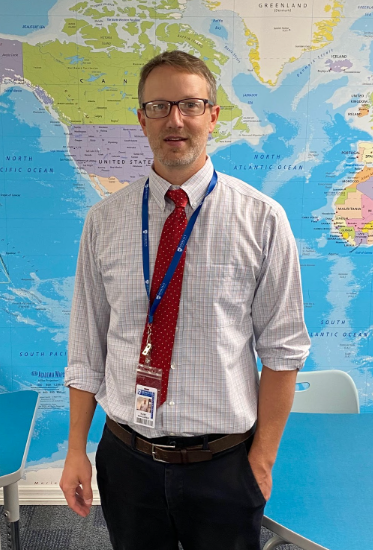 When asked about what brought him to Berkeley Preparatory School, he stated that the academic and community atmosphere is what drew him in. He is grateful for all of the welcoming students and faculty. 
KURT WAHLGREN FUN FACTS!
Favorite books: The Emperor by Ryszard Kapuscinski, Dark Star Safari by Paul Theroux, and The Fire Next Time by James Baldwin
Favorite Sport Teams: The Cleveland Browns (Football), Cleveland Cavaliers (Basketball), Cleveland Guardians (Baseball), Columbus Blue Jackets (Ice Hockey) and all Ohio State athletics
What Historical Event Would You Like To Go Back In Time To Experience? An observer at the Russian Revolution
Favorite Food: Mexican and Korean