The Robobucs Are Off to Worlds
Learn how they created a winning robot
On Feb. 19, the 'Robobucs' (429A), Berkeley's robotics team consisting of Brock Manz '22, John Reilly '22, Loi Park '22 and Pierce Wenham '23, went to the North/Central Regional Robotics Championships. This competition, offered by invitation only, was crucial to the team, as it was a qualifying event for the VEX Robotics World Championship 2022. The Robobucs were able to secure both a spot at quarterfinals before being eliminated and qualifying for worlds on their exceptional driving skills record, having one of the highest "Robot Skills Challenge Rankings" in their region.
"When a team qualifies for worlds, it is the culmination of years of hard work and dedication," Ralph Kline, sponsor of Robotics Club and science teacher, said. "It's an incredible reward: validation for their time and energy for both team members and sponsors."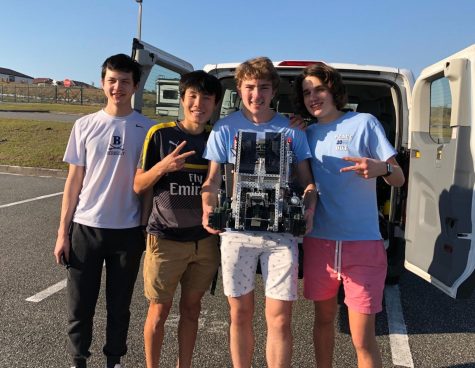 The team has built a total of four versions of their robots over the course of the robotics season. Before building the fourth robot for worlds, they examined the other team's robots and decided what exactly they wanted to accomplish with theirs. There was no set building time, as the team spent multiple months perfecting the robot through an iterative design process of testing and tweaking. Though the previous version of their robot got them through the states tournament, captain Manz noted it had some "serious design flaws impeding [their] ability to make an autonomous program," in which the robot could complete its goals independently.
"As a result, a few weeks before the state tournaments we redesigned and rebuilt our robot," Manz said. "It was a bit of a rush job, but we were able to build a stronger, more competitive robot."
The team worked on the robot outside of school whenever they could, sometimes working past midnight on school nights; however, for Reilly, the most difficult part of the design process wasn't the long hours or continuous adjustments, it was figuring out what exactly they all wanted to design.
"Because we all have different ideas on the team, it takes us time to work out whose we want to go with, and it can be a little upsetting if your design does not end up being the final one," Reilly said.
Robotics competitions are "tournament-style," with 30-40 qualifying matches that determine seeds and elimination matches, in which alliances are made. A typical competition consists of around 20 teams, Kline explained. Each team is paired up with another team called an "alliance" for a two-minute match against another pair. Usually, a team ends up competing in about six matches. The top-ranked teams will then compete against each other in matches called "elimination matches." This pairing down of teams continues until a winner is reached, who is now eligible to compete in larger state's competition toward the end of the season. Top-ranked teams at states then move onto worlds. Though the Robobucs did not make it to the final round of the regional championship, they were nevertheless able to qualify for worlds, making the victory even more rewarding. 
"We were ecstatic when we found out," Reilly said. "We were right on the verge of not qualifying but knowing that we made it was a very relieving feeling."
Currently, the team is rebuilding their robot for the championship so that it can be "even more competitive on a bigger stage." They plan to make a longer wheelbase to reduce tipping, implement a more versatile object manipulator and modify their rear pneumatic system to make it more consistent. 
The VEX World Championship is set to take place early May, and the team continues to prepare for what might be their biggest breakthrough yet. Go Robobucs!