Emily Beckesh '21 Uses Poetry to Describe the Senior Experience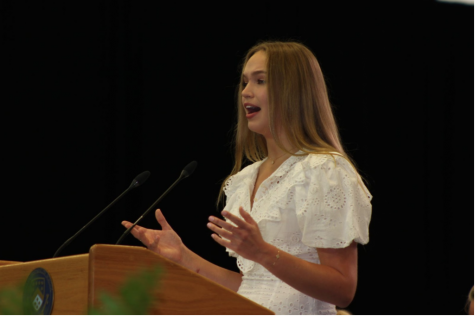 Unlike the traditional speeches given at graduation, the class poet is tasked with describing the sentiments of senior year through rhyme and detail. Emily Bekesh '21 was awarded class poet this year and took the opportunity to use her love of nature as symbolism for the senior class. The Fanfare sat down with Emily to hear her inspiration behind her writing, her experiences at Berkeley and her advice for future seniors. 
Q: What made your decision to apply for class poet? 
A: Honestly, I wasn't going to do it, but then I took some time to reflect on the year and think about the past ten years at Berkeley, how that it was all coming to an end but, you know, how that's a good change. So then, I had some extra time on my hands and just got into it one night for two hours, and just wrote and wrote. When it came together, it became something that was really nice and meaningful to me. I almost wasn't going to submit because I thought I could just keep this as a nice memorabilia for myself, but then I thought it might be nice to share it. It helped a lot to have the support of my friends because it made me realize that maybe more people should hear the poem, as they might be able to relate and have the words encapsulate their experience. 
Q: Is poetry a medium you've connected with it in the past or was it a relatively new experience writing poetry? 
A: No, this was a new thing for me and so it was representative of the whole change because it was me branching out into something new. I had always tried to get into poetry and I definitely appreciated the art like Mr. Dinota showed me poems that I liked and that warmed me up to poetry as a form of expression. Poetry was something I was trying to get into early spring semester because I had never really tried before and then I found out writing it myself made me enjoy poetry even more. 
Q: Throughout the poem, there are amazing connections between nature and the emotions and change we've experienced our senior year. Where did this inspiration stem from? 
A: All my friends know that nature is something I'm very connected to. In Mr. DiNota's class, we did a lot of readings related to nature and that made me realize that we are a part of nature; I think our roots and our milestones and just the natural progression of life is natural, which is comforting. There's a beauty in knowing that I'm part of a greater greater. And that's where I find comfort and connection. A lot of milestones or touch points in my life were connected to being outside, like when I was little, I was always outside with my friends every single day. Then I have memories of hiking in the mountains in North Carolina with my family or playing in the creek or going to the beach all the time. So that kind of played into it too, just because nature was such a big influence on my life. 
How have you seen Berkeley change and how has your experiences here evolved since you came in second grade? 

Berkeley has changed so much. First, what comes to mind is just the physical campus that has grown so much because when I first started there, there was no Straz or Gries or Cafe. It was very different. It relates to how Berkeley is an outdoor School too and that's one of the things I love because you get to be outside every day and appreciate it. It's super unique because you won't get that at other schools because they don't have that Florida beauty and charm. But yeah Berkeley's changed a lot in good ways because they're just progressing. It's the natural progression of things and they've kept up super well with technology and all the buildings. It's crazy because there are still so many faces that I remember from my very first days [who] are still there.
I think you gain so much confidence being at Berkeley because you start off and it's a smaller community where everywhere you go you pretty much recognize all the faces. When I came to high school I was like oh my gosh there's so many people and teachers I don't know, even coming from middle school, but then over the four years of high school, I became so much more comfortable and confident. A lot of it was because of my teachers [who] encouraged me to pursue these things and to speak up. I built so many relationships, all of my teachers weren't just one year because they stayed with me and we built on our relationship all four years. Now I  have this network that has prepared me, and now I'm ready to be sent off. It's also knowing I can always come back and that Berkeley would always be my home. It's amazing always having people here I could lean on. So Berkeley is like my home in that way.
What do you think the importance of flow and rhythm is to poetry and how have you utilized that in your poem?

I think poetry should be read aloud. I am particularly attached to that because I grew up reading  the Scripture aloud at my church, so I was always doing public speaking and I felt like even though I didn't write those words, obviously, it was still a way to connect with people and spread a message. I think the power of public speech is sometimes underestimated, because we see written work and it's much easier to disseminate written work and just have people read, but I think it's different when you hear something in person. That goes for all the great speakers in history. I don't like to write at school or in a public place because I like to write in my room because I read it aloud. And that's what really helps me get the rhythm down. 
How are you feeling about the public speaking aspect of reading your poem at Commencement? 

Oh, I'm so excited because I feel in my own personal life I mentioned public speaking so I feel like this is almost culminating for me, since speaking is where I built a lot of confidence. I wasn't thinking about that when I was little because I started doing that when I was eight, right after my first communion. So I always keep that in the back of my mind, but I'll definitely be nervous. I think the best thing is to not anticipate because that's what usually gets me worked up. And just focus on how excited I am and how proud I am to share this and  have this moment with my class and also thinking of my parents who will get to see me up there. It's definitely an accomplishment and I'm proud of it. I'm really lucky to get to be the class poet and wrap up my whole class experience through this.
What advice would you give to students who would like to be a class poet or aspiring poetry writers in general? 

I would just stick to what moves you. I think there are so many great poets and you definitely don't want to get caught up in trying to imitate that. Also, you shouldn't try to create what you think it's supposed to be about because mine's about nature and I didn't know if people would relate, but it's very personal to me. I think poetry, if someone's really thoughtfully considering it, they're gonna find a way to relate because you're expressing emotional experiences through a different story, or specific symbol; since it's drawing of your experiences and your preferences, you get to infuse your own emotion and deeper meaning. Just stick to what inspires you and moves you, and that's where you are going to create your best piece.
What advice would you give next year's seniors? 

It's so crazy to be at the end of the year because it's something you anticipate for your whole life, it's so special. And I would say, hang out with your grade, like go to someone's house and have a pool party before the year starts because you will bond. It's awkward at first, or it's different, but do that bond with your grade, and do everything you can. Go to the sporting event, or get involved. If there's something you've always wanted to do, just do it. Also, just talk to people  all the time. It's not weird, just be friendly, say hello to teachers and other faculty and students, and underclassmen. Just go for it and fully embrace it and focus on all the good parts.
Read Emily Bekesh's Class Poem: