A New Addition to the Prom Dress Code
Mrs. Anderson Announces New Safety Protocol To Ensure Social Distancing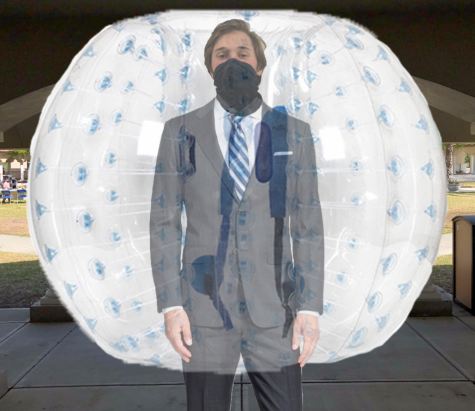 After being at school safe and together for seven months, Berkeley has decided to move forward with one of high school's most special events: prom. Of course, it will look a little different this year, as Berkeley is making a point to strictly abide by the CDC's recommendations to minimize the chance of spreading COVID-19. The prom committee has been hard at work for the past few months planning a fun, safe celebration for Berkeley seniors. Recently, The Fanfare sat down with the head of the prom committee, Sarah Anderson, to talk about the committee's plans for this year. 
First off, Anderson disclosed the theme for this year's prom: Social DisDANCE. Anderson also informed us that this year's prom will be held at an outdoor venue, and proper facial coverings and social distancing will be required. One of the committee's largest concerns when planning prom amidst a pandemic was how they would enforce social distancing at an event that consists of students dancing together in a large group setting. After much deliberation, the committee decided that the most safe and effective way to enforce social distancing would be to add a new requirement to the dress code for prom: bubble soccer suits. 
According to Anderson, Berkeley will be renting bubble soccer suits from the same company it has used before for pep rally events. Each suit is approximately six feet in diameter, ensuring that students will remain at a safe distance from each other while still being able to dance together. Students will be able to choose their color of bubble suit upon entering the venue, with options including but not limited to clear, red, blue, white, black, green and more to coordinate with their outfit for the night. 
Additionally, Anderson stated that "instead of a fog machine, the DJ will be spraying Lysol into the crowd every five minutes." 
The Fanfare also spoke with a few seniors to hear their take on this year's upcoming dance. Of course, many expressed their excitement for their first ever prom since their junior prom was cancelled due to COVID-19. 
Madison Mintz '21, a former prom committee member, stated: "I'm really excited to finally have a prom. My dress is going to be blue, and I can't wait to coordinate with a blue bubble soccer suit." 
Maroula Pavlakos '21 also expressed her excitement to finally attend prom: "I can't wait to find a dress to match my bubble soccer suit."
With these new safety precautions, Prom is sure to be unforgettable this year.