Hayes Regrets New Tattoo
Although Daniel Hayes loves both tattoos and Katy Perry, he has found that combining the two is not has amazing as he thought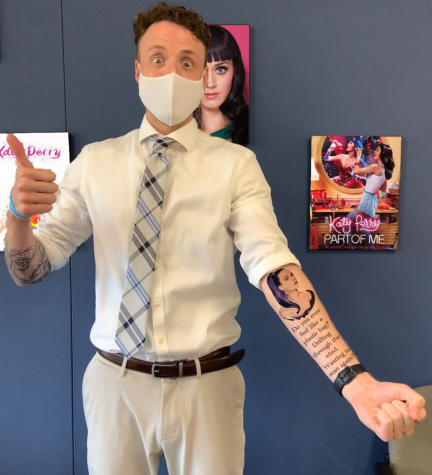 For those not in the know, beloved English teacher Daniel Hayes recently got a new tattoo on his arm. This three-quarter sleeve tattoo depicts a myriad of inspiring quotes, images and colors. However, in a shocking turn of events, Hayes announced to his AP Language and Composition classes that he regrets this new tattoo, despite the months of planning that went into it. He apparently would have preferred the lyrics to Katy Perry's "Firework" in Comic Sans along his arm. 
"I love Katy Perry," said Hayes, "I have since I was a wee little farm boy with only the radio and 'I Kissed a Girl' as company. Katy Perry is the only one I want a tattoo of. I guess it just took one wrong tattoo to realize what I really needed! 
"The lyrics of 'Firework' speak to me so much more than meaningful quotes about the goodness of life. Just listen to this: 'Do you ever feel, like a plastic bag.' Amazing. I feel like a plastic bag. I'm telling you, this stuff is better than 'cellar door.'" 
This shocking announcement has sparked a controversy among AP Lang students.
 "Katy Perry?" exclaimed Robyn Pilecki, '22. "What about Olivia Rodrigo? Hayes needs to get with the times." 
Other students seem disturbed with Hayes' outdated tattoo choices as well. As Vice President of the Student Body, Brantley Deady '21 has decided to begin a campaign to help change Hayes' mind. "We can all agree that Mr. Hayes' original Katy Perry tattoo idea was stupid," Deady said, "but we can help him. Let us band together and pledge to help Mr. Hayes realize that a tattoo of Olivia Rodrigo next to a stop sign is just what he needs." 
Join Deady and an undisclosed (but most definitely large) number of other Berkeley students in their quest by signing their petition on Change.org and donating to their GoFundMe page called "Olivia beats Katy 2k21: Save Hayz." 
Hayes plans to remove the greats from his arm – Emerson, Thoreau, Whitman, Wilde, Picasso – in favor of the greatest: Katy Perry. Time is running out to help!