Emily Dolgin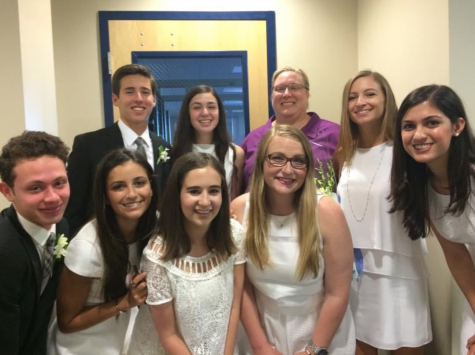 Q: What are the first words that come to mind when you think of Ms. Frank? 
A: Patient, nurturing, brilliant, hilarious, our "School Mom"
Q: What is your favorite memory of Ms. Frank? 
A: Some of my favorite memories include translating the Aeneid and Catullus; watching Hercules, Troy and O Brother, Where Art Thou?; and hanging out with our team and her at our senior dinner at Latin States. When we thought the world was ending, she would always be there to remind us of our worth and lighten the mood by holding up her notorious "BUMMER. GOD BLESS." cardboard sign.
Q: What was your favorite story Ms. Frank told you about her life? 
A: Ms. Frank never gave up on me (on any of us), even when I had given up on myself. I often felt stupid all through school until I was finally diagnosed with my learning disability at 16. I went from B's in Latin through 9th grade (a different teacher) to all A's 10th grade onward with Ms. Frank–even getting the book award junior year. I'll never forget shaking her hand at honors night, her telling me how proud she was and seeing the most genuine smile on her face, which we all know meant the world because it was rare (even though she was often laughing). Though she'd give me the credit for working hard, I must give her credit for being such an amazing teacher; I couldn't have succeeded without her. We talk about how teachers do far more than teach; Ms. Frank was there for us throughout high school (we were lucky enough to have her for 3 years, Latin Club for 4), and during that time, she helped us through classic teen angst, depression, breakups, rumors and college rejections. I and others spent many lunches hiding in her classroom to do homework or just vent. She got us through high school, and she nurtured our love of Latin. I've already had days (today actually!) where I want to text her to update her on my life, check-in or send her a funny meme as I usually did post-Berkeley. Her spirit lives on in all of her students, and we're inspired to make the world a better place in her honor.