Elizabeth LeRoux: A New College Counselor, an Alum and a Cook
The Fanfare sits down with Elizabeth LeRoux to discuss her new position as college counselor, her passions and her past experiences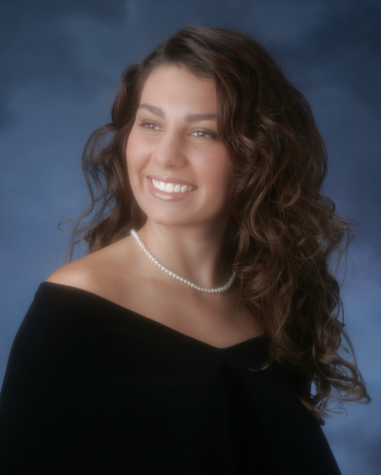 Meet new Berkeley faculty member Elizabeth LeRoux! She is a new college counselor and a Berkeley alumni. After graduating from Berkeley, LeRoux went to Boston College, and then began working in college admissions. The Fanfare asked LeRoux about how the Berkeley community has changed since graduating, how she felt working at the school she graduated from and what obstacles she faced becoming a new college counselor in the midst of a pandemic.
Q: Have you worked anywhere other than Berkeley? 
A: After graduating from Boston College, I worked at Northeastern University which is another school in Boston and worked there in undergraduate admissions for a couple years, and I traveled and recruited. I recruited from parts of New York and Connecticut, and then Colorado my second year, so I had an opportunity to travel out to Colorado a lot, which was really fun and nice and then went back to BC for my graduate degree after that. And then came down here, back to Florida, back to Tampa, back home with my husband and then worked at University of South Florida for a year before I came back to Berkeley.
Q: Why did you decide to come back to Berkeley? Is there a specific moment in which you knew you would be working here?
A: I hadn't thought about it, up until making the decision to move back to Tampa. So, when I was up in Boston, it was a wonderful experience. I was up there for almost 10 years, but by the end of it I was missing home, I was missing my family, I was missing being here, frankly. And so when thinking about that, I thought about coming back to Berkeley at that time, but it just kind of wasn't the right time. And I think that once I started my job at USF I realized I really wanted to be working in college counseling and the only place I wanted to do that was here.
Q: How did you feel walking onto campus as not just an alumnae for the first time, but also a staff member?
A: It was strange because a place that was home for so long has changed so much right. This building [The Gries Center for Arts and Sciences] wasn't here. The campus basically ended at where the Tech Commons are. So, almost everything beyond that just was like a pond. And so, to see the growth and change was a little jarring but so exciting. Clearly, I mean this is just amazing, all of this. But I think what would give me some peace was that the students hadn't changed [….] There was still so much that was the same, and it was all the core parts of Berkeley: the faculty, the students, the way we treat one another, our community. All of that stayed the same. And so even amongst all this like visual change I still- it still felt like home which was really nice.
Q: How do you think the Berkeley community has changed since when you went to school here and today?
A: I think it is similar, but there are so many more opportunities. So, for instance, things like the Global Scholars Program didn't exist when I was here, various study abroad opportunities didn't exist. And I think that all that's done has really matched with what the community is like. I think that those opportunities are precisely the kinds of things that make sense for our community and for our students, and so I think that our school has kind of grown to fit the needs of the students in a way, which is really nice.
Q: What grade did you come to Berkeley/how long did you stay?
A: I came to Berkeley in ninth grade. And I remember so distinctly, I came home like my first or second week of school and I looked at my parents and I said, we need to get Alex here [her younger brother]. Now, he was in kindergarten at the time I think. I think he came in first grade. I mean just walking around campus, I feel like I missed something, not having had lower and middle. But I also think it gave me a unique perspective on Berkeley and I certainly, when I started, really wanted to take advantage of everything because I hadn't been a part of it.
Q: In what way do you find college counseling rewarding? Is it at the end of the year or after meeting with students throughout the year?
A: I would say, it's all new to me every day because this is my first time doing it and so I think every day I see a new and different way that I feel rewarded in this work, but for now it's been meeting with students and especially working on things like essays and talking about their experiences and activities. Things like that, when you see a student really be able to reflect on that and be proud and then be able to put that on paper is incredibly rewarding. Just overall meeting with students is my favorite thing in the world so I love doing that. I'm sure that come graduation I will be crying because I tend to cry. I'm a little bit of a crier. But I think for now it's been every day that I feel that the rewards are immense gratitude.
Q: How have you adjusted to the new job, considering that there are new COVID precautions in place?
A: It has been harder to recognize people. I mean there's so many faculty and people here whom I know, but there are also lots of new people and obviously all the students are new. I'll be interested to see when it is eventually time for us to take our masks off. I don't think anyone will recognize me, which I think is kind of funny and quirky, but that definitely has been a challenge. I think everyone has just done such an amazing job with the precautions, but I barely even notice it [wearing masks] anymore.
Q: Do you have any fun hobbies or activities you are passionate about and involved in outside of Berkeley?
A: I love cooking. I am deeply, deeply passionate about food. […] [In] January, I started an Instagram food blog which kind of focuses on helping the home chef demystify complicated recipes, which has been a lot of fun and kind of rewarding for me outside of working. It's kind of a creative release. I'm not an artist, I have no other creative talents and food is basically it.
Q: Do you have anything else to add?
A: My door's always open. I would love to see as many students as possible just come pop by and say hi…. We do have busy schedules up here, but I think that all of us do a good job of keeping our doors open and welcoming folks as we need, and I'd love to see people. I'm going to try to do a better job of popping out onto campus throughout the day, and so I would love for everyone to just say hi.