Meet Cheryl Rink!
Find out more about Berkeley's Newest addition to the Administrative Staff Cheryl Rink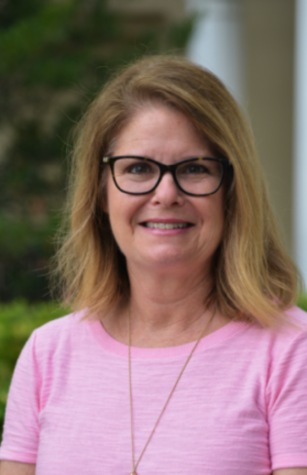 Cheryl Rink works as an administrative assistant across from the Dean's suite, where she helps schedule meetings with Ryan Jordan, the Upper Division Director, and interacts with faculty and staff.  She is the wife of Mike Rink, a member of the Upper Division Math department. She comes to us from the Virgin Islands, where she worked at an independent school called Antilles School. She decided to come back to Tampa to be with her family. Her favorite hobbies outside of school are cooking, gardening and spending time with her grandchildren. She is also heavily involved with the Make-a-Wish Foundation in the Virgin Islands, where she helped Alby, a young boy who wanted to be a pirate for a day. The island was filled with hundreds of people who dressed up like pirates to help make Alby's dream come true. If you visit her office, she will definitely have pictures of her grandchildren on hand. 
Q: First, tell us a little bit about yourself! Fun Facts? Anything that the Berkeley community should know about you.
 A: I lived in the Virgin Islands for about 10 years. Oh, and we [Cheryl Rink and her husband] both worked at the Antilles School down there which is an independent school, and we moved back here, because of my family. My parents are getting older and they need the help. Plus, I got wonderful little grand-babies that live here so that's the reason that we moved. We're happy to be here. It's not exactly like living on a Caribbean island, but we're happy.
Q: What drew you to work at Berkeley?
A: Well, because it's Berkeley, and the reputation that it has. I get to ride with my husband every day, and I really love working in a school setting.
Q: What are things that you were nervous or excited about working here? 
A: I was very excited that the school was a Mac school and that everything was Apple related. I don't think I was very nervous because I had this role at the Antilles school, which is a much smaller school, but it was a natural transition. It is basically the same job, so I don't think I had any nerves coming in.
Q: What does a normal day at your job entail?
A: Scheduling meetings for Mr. Jordan, that's a big one and interacting with teachers. We don't really see any students on this side of the office, so interacting with different administrators.
Q: What are things that you like outside of school?
A:  I love to cook. I love gardens. And spending time with my two granddaughters in Lutz. We're having a sleepover this weekend. We have another granddaughter in Michigan. I'm pretty much a homebody, so I definitely enjoyed those things in quarantine.
Q: Would you like to add anything else? 
A: I had a thought last night about something interesting that people should know about me. For the past ten years, I've been heavily involved with the Make-a-Wish foundation of the Virgin Islands. I was fortunate to host a Wish for a boy, Alby, from Tennessee who wanted to be a pirate. Because the Virgin Islands are small, the entire community came together to make this Wish truly special. We had an exact replica of a pirate ship donated for Alby to sail the high seas to Water Island. He had a sword fight with a bad captain that he threw overboard and then of course a real treasure hunt and saved a damsel in distress. The island was filled with community members dressed as pirates, even a man dressed as Jack Sparrow that looked better than Johnny Depp. This is the Wish I am most proud of because of the community support, and it received National attention and recognition!