Headmaster's Pep Rally
An annual all-school convo gets students in the spirit for the Headmaster's Challenge
As athletes were preparing to face off against Tampa Preparatory School's Terrapins in the annual Headmaster's Challenge, the pep rally was the perfect way to get the entire school ready regardless of whether they were competing or not. Every year, athletes who play winter sports, such as basketball, soccer and wrestling, participate in the Headmaster's Challenge against our rival school, Tampa Prep. At the end, the school with the most points wins the coveted Headmaster's Cup. Berkeley went into Headmaster's Challenge hoping to "keep the cup" for the 8th consecutive year. The Fanfare interviewed some students to see what they enjoyed most from the Headmaster's pep rally.
Beginning the pep rally was the varsity boys basketball team. They pumped up the school with their fiery shots and the sparklers blowing right behind the hoop. To continue the basketball spirit, an intense knock-out game followed. Siblings and families of Berkeley competed against each other to win. Coach Martz and Coach Garcia were among the teachers who participated. The winners of the knock-out game, however, were the Mack siblings, Andrew '20 and Madison '26.
Abbey Dempsey '23 said, "One of my favorite parts of the Headmaster's pep rally was the knockout game. It was really fun to see my coaches and other classmates compete in that type of challenge outside of the classroom."
Another fun aspect of Headmaster's was the spirit day for the entire school. On the Friday of the pep rally, students dressed up in their Berkeley gear to show support for the athletes. Dempsey said, "I also liked seeing everybody dress up and it gave a really cool feeling of school spirit to head into Headmaster's."
Kaitlyn Mang '23 also discussed her favorite parts of the Headmaster's pep rally. "I loved the spirit that the school always brings to the pep rallies every year. This year, I thought it was really funny when Bucky hit the blow up turtle (a symbol for Tampa Prep) with the sword," she said.
The cheerleaders also played a pivotal role in getting the school ready for Headmaster's during the pep rally. To prepare, they held countless practices after school. Cheerleaders participate in Headmaster's for the whole day to cheer for the athletes. As always, they performed a strong dance routine along with high-flying stunts. The cheerleaders also interacted with the crowd through various cheers in order to hype everyone up.
Before the pep rally's end, Coach Reinhart and Headmaster Seivold spoke some powerful words to once again encourage the entire Berkeley community. They had completed the job of getting the school into the spirit for the Headmaster's Challenge, and the only thought in most students' minds was "Keep the cup!"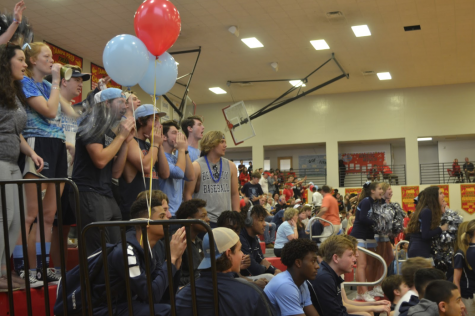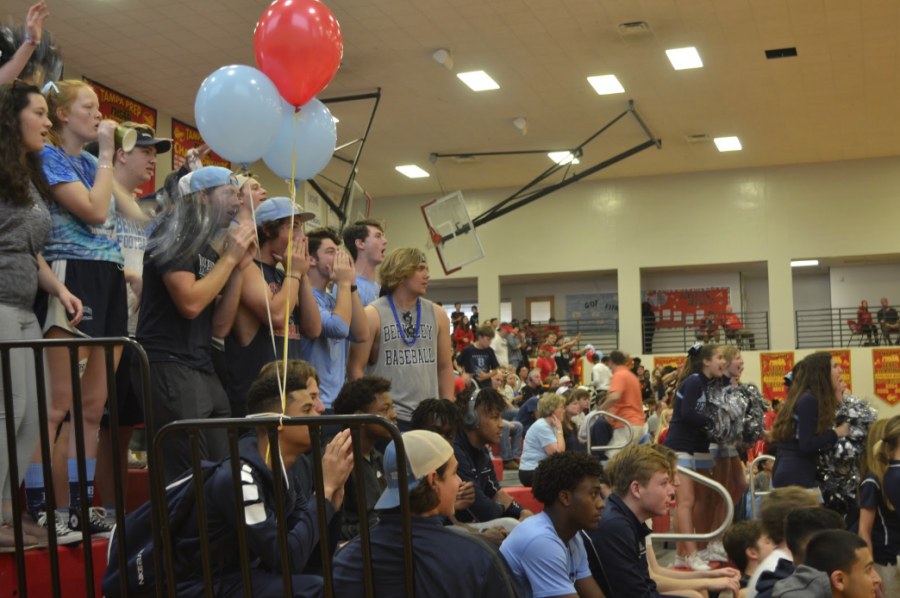 About the Writer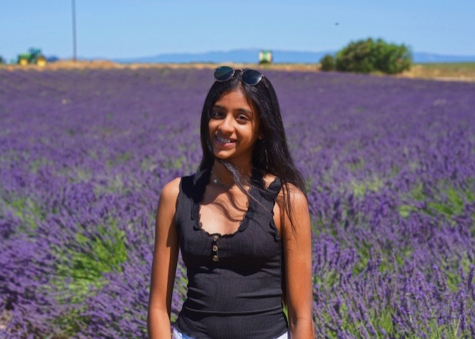 Meghna Bukkapatnam, Staff Writer
Meghna Bukkapatnam is a staff writer for the Fanfare this year. She is a freshman at Berkeley and has been here since 3rd grade. She has been playing the...