Champions of Comradery
Two Headmasters demonstrate their friendship in an exclusive interview
On Jan. 11, 2020, I arrived at Tampa Prep's downtown campus to join my classmates in their support of numerous Berkeley teams during 2020's Headmasters' Challenge. I brought with me a camera to photograph soccer games, a water bottle to keep hydrated and a series of questions prepared for the Headmasters of the rivaling schools.
Last year, I interviewed Berkeley Headmaster Joseph Seivold and Tampa Preparatory School Headmaster Kevin Plummer on Berkeley's track to discover the origin of Headmaster's Challenge. What I didn't expect to discover was a fundamentally strong and passionate friendship between the two men, one that filled my interview audio with laughter and playful quips. This year, when I asked both Headmasters if they would be willing to be interviewed by me again, they agreed. I was thrilled to have the opportunity to learn more about their thoughts, their schools and their friendship.
Below is an edited transcription of an interview during the second half of the JV Boys soccer game.
Fuller: What has been the best moment of each of your school years?
Plummer: Best moment of my year so far has been Grandparents' Day because it is my favorite day of school, and just in general… My daughter is also a sixth grader here, so it was a full family day. My mom was here, my inlaws were here. I mean, Grandparents' Day is always an incredible day. All the students bring their grandparents, our school doubles in size, it's a super fun day.
Fuller: That's amazing
Seivold: Well, you know, there have been so many great days and great moments within those days, it's really hard, Tessa. Frankly, to pick one, I love our all-school holiday convo every year, and I thought it was especially spectacular this year.
Fuller: Who do each of you look up to? You're the heads of your respective schools and a lot of people look up to you as leaders, but who do you look up to?
Seivold: Oh wow that's a great question.
Plummer: Wow, the best…
Seivold: I look up to Kevin Plummer.
Plummer: I look up to Joe. But, one of my great mentors is the Dean at my college. 
Fuller: Where did you go [to college]?
Plummer: Colby College. Janice Kassman, I'll see her in probably two weeks. [She] and her husband, they are now snow-birds, so they'll be down here in Fort Lauderdale. She's still pretty big for me, a personal hero, [I] definitely look up to. On a competitive  side, like I like the fire of Michael Jordan still. We're old enough to be able to appreciate Jordan. I mean, not only do we have the retro shoes, but we also got to see it when it was happening in real time and that was a lot of fun… My mom, my mom is still my hero. Crazy, crazy that most of the lessons she tried to teach us were so right. 
Seivold: Okay so professionally I'm dead serious I look up to Kevin and so many others within Florida and nationally who do the work that we do. He's been doing it longer than I have and very successfully. My former boss, at the Blake School, John Gula, outstanding. I look up to anybody that's choosing to do the right thing on a consistent basis and I admire people in challenging times and with a lot of spotlight and social media feedback. One way or another, people who choose to do the right thing despite the consequences I admire a lot. 
Fuller: Okay, here's an easier question, but you do have to explain yourself. Would you rather be faster or stronger? Because this is a sports day.
Seivold: Nice!
Plummer: Faster or stronger… at this point in time, I gotta go faster.
Fuller: That's a good one.
Seivold: I gotta go stronger! Absolutely!
Fuller: I knew there was going to be a difference in how you responded! I didn't know who was going to pick what, though. I thought you [Seivold] were going to pick faster, to be completely honest.
Seivold: Tess, I can run like the wind. 
Fuller: Really? I can't.
Plummer: I'd love to be where I was in college. Faster. 
Seivold: I'll never outrun my enemies anyway, so there's no point in being faster. I gotta fight. 
Fuller: What's something that made you smile today?
Plummer: Seeing Joe.That made me smile today. Actually, we were on the phone before this whole thing started driving here and that made me smile today. Seeing my daughter finally on the field, in a Headmaster's Challenge, that made me smile today. And really, I just love how our schools have come together again. That made me smile today. 
Seivold: I woke up to the thought of Jared Noh winning that heavy-weight match last night. 
Fuller: That was so great!
Seivold: You don't know Jared Noh like we know Jared Noh. That's just one of those examples of why high-school sports are so cool. Five, seven years ago, I never would have called that. I've known that kid for a long time.
Plummer: I still can't believe that the match came down to two of the bigger, but more docile, gentle human beings on both campuses. 
Seivold: I fantasized today about us winning the cup and instead of the basketball team thinking they won it, or whatever, everybody goes and picks up Jared Noh and carries him out. But no, here's the reality. Jared Noh is probably home right now playing video games or something. He doesn't even know this is happening. Right? Am I right? He has no idea.
Fuller: So this is a question they ask on NPR Politics. And I like this. So they're going around and following the campaign trail and asking people like Corey Booker what they can't let go of that week. The basis of the question is what's on your mind, what are you thinking about? Past answers to this have been The Game of Thrones finale, or something in the news. Just something that takes up a lot of mental space. 
Seivold: Oh so in a positive way? I mean, I'm going to be dead honest with you right now, what's going on with Iran, that's been on my mind. I mean we get so busy at school that I'll go home with no idea what's happened in the last twelve hours because I'm afraid that we're in war and that I missed it. Right, so literally, in the last week, I've been like let me check the last updates. In a positive way, Tess, I'll tell you that I haven't been able to let go of how great it felt to be back. I had a wonderful vacation, my son got married, and that was Dec. 28th, so we still had like a whole week after that and it was just a nice sort of break. Jan. 6th came back and it was just everybody; I mean, you saw the school spirit on Monday! Everybody was so psyched and happy, and to me, I just felt so good because it made me feel good, despite the larger concern about the world. In our little happy corner of it, I have been reassured all week that this is a really cool job and a really cool place and most importantly, it's complete with really cool people.
Plummer: What I can't let go of, on the negative side, just the tensions that exist right now nationally, geopolitically and vaping. Those are the few things that are making me nuts. On a positive side, what I can't let go, it's just an interesting time here at Tampa Prep. We're in a strategic planning cycle. On the good side, there's a lot of good community energy about the future right now so that's been kind of cool. And this year's senior class, I can't really let go, and now I'm going to jinx it, they're really nice kids. Just bunches and bunches that are super nice and showed spirit at our pep rally yesterday. I can't let that go.
Fuller: What's one thing you just admire about each other? Headmaster to Headmaster.
Plummer: Headmaster to Headmaster, I just think Joe Seivold is one of the smartest, coolest, most thoughtful educators that I know. For me, it shows some circularity because earlier in my life, Joe was somebody that I really admired as a lacrosse player. He was stunningly quick, and tough and filled up. He was in Lacrosse Magazine all the time… And now we're in this phase of our lives where we're in each other's cell phones and crack each other up and see each other at meetings and it's just a really nice trajectory. He is super smart, he's super good for Berkeley. And he's just killing it for Florida. He has reached out to other people that he doesn't have the time to, but he's making them better along the way. He's just kinda the man in a big way. But you shoulda seen him when he was younger fast, tough. Do not cross him on the lacrosse field because it might not be immediate, but he's gonna remember and there's gonna be a moment where you get blown up. Ridiculous amounts of skill and students at Berkeley have no idea how good of an athlete their Head of School is. They have no idea… I can make the argument, Joe Seivold, in the best five players in the world for probably like five years. Easily. 
Fuller: He does not talk about this enough. 
Plummer: I know! Totally humble. He'll never tell anyone, but he was super bad. First captain, first pick, definitely. He had lots of Tarheels on the back of his helmet, so many of them that they came around the side!
Fuller: What does that symbolize?
Seivold: Five ground balls, three points, takeaways, some series of keepaways…
Plummer: He was littered!
Seivold: Stop it Kevin, that's enough! Okay, like I said before, Kevin, he's such an incredible leader and so generous with his leadership. So, like I said before, admiring Kevin's leadership here and witnessing it frequently. But, what you don't know is that Kevin serves on so many other boards, volunteer, in every case, and not just as a figurehead but also at leadership level. He'll be our next president of the Florida Council of Independent Schools.
Fuller: Wow, congratulations! 
Seivold: This is the most important role I think within the state, in terms of helping schools like ours be more like ours. Because, I would argue, these are the best two schools in the state and there are many schools in different positions… And one way to think of it is that his leadership here affects 560 kids. But, because of what he does for schools everywhere, you could argue that he's affecting tens of thousands of kids… his energy for giving is extraordinary.
Plummer: Thank you.
Seivold: It's true.
Plummer: It's either that or I don't know how to say no.
Fuller: It's allowed to be a mixture of both. 
Seivold: Well I think you're recruiting, because people know that you're generous with your leadership and effective in it.
It was an honor to conduct my final Headmasters' Challenge interview this year. I am deeply saddened that the transcription has no proper way of including the meaningful eye contact, the sturdy handshakes and the deeply sincere tone of both Headmasters. Furthermore, the transcription has no way of revealing the results of an unofficial competition between Berkeley and Tampa Prep. In a nerve-racking and highly strategic game of Rock-Paper-Scissors, Kevin Plummer obtained an unofficial point for the Terrapins. I would love to give my congratulations to both Headmasters for their winning attitude. The words of my own Headmaster still ring in my ear as we returned to the stands: Great job as always, Tess.
About the Writer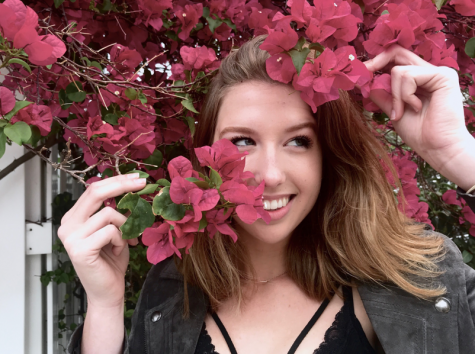 Tess Fuller, Business Branch Manager
Tess is a senior who has been writing for the Fanfare since her freshman year. She's a dedicated journalist, a creative storyteller, and a positive teammate....