Thanksgiving Traditions
Students describe what they enjoy doing during Thanksgiving break
The holiday season is fast approaching and stress levels are on the rise with exams coming up. However, one important holiday cannot be overlooked: Thanksgiving! Thanksgiving is a great holiday to celebrate with family and friends. Whether it be stuffing with turkey, watching "A Charlie Brown Thanksgiving" or even going on a shopping spree on Black Friday, there is something for everyone to enjoy during this holiday. Thanksgiving is also a good holiday to reflect on the past year and to express gratitude. The Fanfare interviewed some students to see their favorite Thanksgiving traditions.
"My mom and I watch the Thanksgiving Day Parade in the morning and then my mom's family comes over. We always have a Thanksgiving lunch together and talk about what we are grateful for. It is also fun to just spend time together," said Abbey Dempsey '23. 
During the year, thankfulness is often forgotten. Thanksgiving provides the perfect opportunity to show this gratitude with loved ones. When asked what her favorite part of Thanksgiving was, Dempsey said, "I like Thanksgiving because it gives us a time to reflect on what we are thankful for and how lucky we are to have such great things in our lives. It also lets me spend time with family and have a fun day with those I love."
Kaitlyn Mang '23 also discussed her favorite traditions from Thanksgiving. "Every year my family and I always play football in our backyard before we eat. After Thanksgiving is over, my favorite part about break is [going] shopping online for Black Friday." Additionally, Kaitlyn said how Thanksgiving is not only about the turkey, "My favorite food isn't turkey. I actually like mac and cheese and Brussel sprouts. I also like pumpkin pie, because my family and I make it together." 
A popular Thanksgiving tradition is spending time with family and eating a lot of food. Meher Irani '23 said, "We go to Boca to visit and spend time with my grandparents who I don't get to see often. We also make the turkey together and we always make a pumpkin pie. My favorite part of the break overall is going to the beach with my family."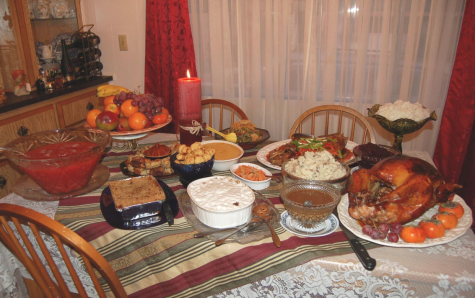 Thanksgiving is the perfect beginning to the holiday season. Despite many busy exam schedules, Berkeley students can always find time to celebrate the holiday with loved ones and be appreciative of what they have. The most important part of Thanksgiving is that it reminds us to be thankful every day, on days with and without turkey!