Humans of Berkeley: Ms. Hardy
Hardy talks moving, settling and double duty.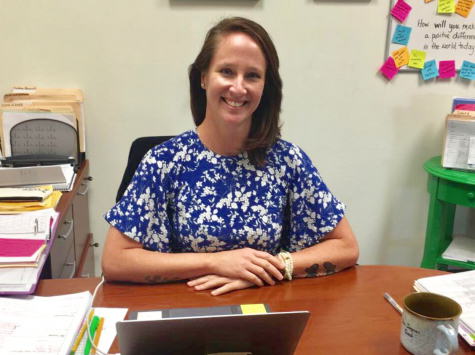 This academic year, Berkeley welcomed many new faculty members. Among them is the newest addition to the English department: Ann Marie Hardy. Hardy teaches English 10 and also serves as an academic dean. Along with her daughter, Luci Hardy '21, she has been settling into the Berkeley community as well as into our sunny town of Tampa. The Fanfare sat down with Hardy to talk about her past and her experience so far at Berkeley.
Q: Where did you work before you came to Berkeley?
A: I lived and worked in St. Louis, Missouri. While I've had experiences in both public and private school institutions, I was at Whitfield School–a college preparatory school–before Berkeley. The school was a lot like our campus, only smaller. And, fun fact, Maggie Sullivan (Upper Division History teacher) worked with me at Whitfield.
Q: Have you always been a teacher?
A: I've been in education for 19 years. In education, I've served multiple roles. My favorite aspects of education include one-on-one work with students, reading and recommending books to students and nurturing equity and inclusion in the community.
Q: How was the move to Florida?
A: Crazy, busy, hectic and awesome.
Q: How are you finding the Berkeley community?
A: I love the Berkeley community. Most especially, I enjoy my Academic Counseling team. I love the students I've gotten to know, and I am inspired by the passion and purpose I've witnessed from the adults on the campus.
Q: How is teaching at Berkeley different from your last school?
A: Actually, it is quite similar; I've not noticed major differences.
Q: What classes do you teach, and how do you [like] your position as Academic [Dean]?
A: I teach two sections of tenth grade English. I love my Academic Dean position because I genuinely enjoy seeing and hearing from students in my office and in the hallways.
Q: What is your favorite book and why?
A: It is very difficult for me to identify one book as my favorite. One of my favorite contemporary writers is Jesmyn Ward, and I particularly love her book titled Salvage the Bones. One of my favorite books to teach is Frankenstein by Mary Shelley. The language is poetic and beautiful, and it's fun to hear differing perspectives on the characters. One of my favorite books to read is Love in the Time of Cholera by Gabriel Garcia Marquez. It's a breathtaking love story written in the magical realism style–which I LOVE!
Q: What one book would you recommend all our Upper Division students read and why?
A: At this moment, I would highly recommend Citizen by Claudia Rankine. It's a book-length poem that also includes prose and artwork. In it, Rankine investigates races in America today. It's breathtaking.  
Q: Do you miss the snow and the change in seasons?
A: Not in the least. I love the sun and warm weather.
Q: What is your favorite Shakespearean play and why?
A: I love Macbeth because it's about evil, power, superstition [and] love. So many good things to investigate and talk about!
Q: If someone visits St. Louis, what is the one place they must go?
A: For fun, I suggest Forest Park, because there are so many things to do there and most of it is free. For food, I highly recommend the Blues City Deli. On Saturdays, you can get a delicious sandwich and listen to live blues music.