Nyxia Author Scott Reintgen Inspires Future Berkeley Writers
Visiting author Scott Reintgen of The Nyxia Triad series advises aspiring student authors about writing novels, attaining agencies, and navigating publishing.
On February 11, a small, diverse group of Upper Division students and faculty gathered in the library classroom to meet the University of North Carolina graduate, English and creative writing teacher and accredited author Scott Reintgen, who masterminded The Nyxia Triad. Little did this group know, they were about to partake in a discussion that could alter their perspective about their future careers as writers.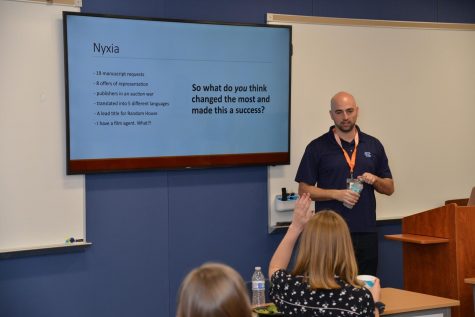 "The Phoenix was invited to come to participate, and I'm one of the faculty sponsors of the Phoenix," said Joe Haley, Upper Division English teacher, who attended and participated at the author lunch. "[Scott Reintgen] is a very well-known author, and I think that a lot of our students like creative writing, so it's good for them to see that it's something that they can actually do as a career."
Not every story starts off as a success, and even Reintgen's publishing process had challenges. A self-proclaimed "fast writer," Reintgen wrote his first novel Grey Harbor in 2013 and wrote his second novel When In Fancy in 2014. However, neither of his novels were selected for publication. In fact, before Nyxia, Reintgen faced ninety-eight rejections from one hundred agents for his first and second works.
Yet Reintgen was not deterred. Through good writing and a stroke of luck, his novel Nyxia landed in the hands of agent Kirstin Nelson, who has represented multiple renowned writers such as Marie Lu, author of the popular Legend series. Following his signing with Nelson, Reintgen's book hit the market and consequently became popular with teen and adult readers.
Since then, the Nyxia series has been a turning point in Reintgen's career as an author. One of Random House Publishing's most popular novels during its release, Nyxia is accredited by Reintgen to have opened new opportunities for him such as requested manuscripts, multi-language translations and even the prospect of a film production.
Reintgen then opened the discussion to the student attendees, comparing the failures of his early writing career with his success of the present. With a simple question, Reintgen allowed students to take the floor and share their opinions, advice, and queries: what changed the most and made his series a success?
Nearly every student in the room had something insightful to contribute to the discussion. Edward Kuperman '20 had questions of his own and commented on his experience post-lunch.
"I was really impressed by his candor and insight. He was honestly an inspiration to just pick up the pen…and start writing," said Kuperman. "When you break the writing [and] publishing process up into steps and realize that you're part of a supportive community who will constructively go through your works, it's not a far cry to imagine actually becoming a novelist someday."
The author lunch was ushered to a close as Reintgen invited students and faculty to ask questions about his personal experience with publishing, plans for the future and advice. For the aspiring authors, Reintgen shared words of wisdom about how to approach the writing process.
"Make time for writing…make it something that's really important," Reintgen said. "Carve out the time for practice to get better. I would also just say to start reading like writers, so learning to take tools and ideas from other authors, and see…how they succeeded."