Plastic Straws: Convenience or Detriment to Ecosystem?
A member of the Environmental Club at Berkeley and the President of Keep Tampa Bay Beautiful talk about the importance of eliminating plastic straws.
In Upper Division convocation, the Environmental Club talked about the importance of switching plastic straws and paper cups in the Berkeley Cafe to sustainable water bottles. The Environmental Club made and passed out a few water bottles featuring a picture of an endangered Florida crane. This campaign's purpose was to increase awareness in the Berkeley community about the number of unneeded to-go cups and plastic straws that are being used.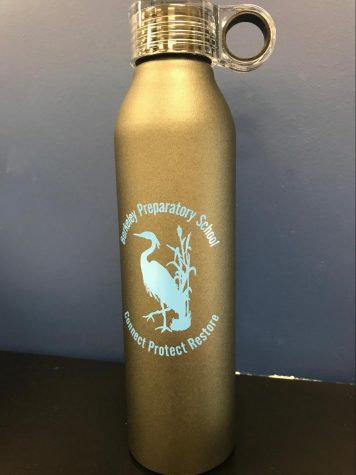 "People don't like to use the reusable cups in the cafe, because they feel the cups are dirty," said Sundee Win '22, a member of Environmental Club. "[Students] use a bunch of disposable cups, and that's not really environmentally friendly. It's just a waste."  The club's position is that these proposed water bottles are more sanitary, so there is more of an appeal to the Berkeley students.
This need to protect Tampa's beautiful ecosystem is not just a problem at school. According to Debbie Evenson, the Executive Director of Keep Tampa Bay Beautiful, plastic is estimated to make up 60-80% of marine debris, and much of this debris comes from plastic straws. Since Tampa Bay has the largest open water estuary in the state of Florida, this debris could be especially detrimental. The Keep Tampa Bay Beautiful organization is a champion at trying to create a friendly environment in our ecosystem.
"The Tampa Bay estuary is important to the health of the area's unique ecosystem because of many of the region's plant and animal species," said Evenson. "Wildlife can be entangled in plastic bags, fishing line and beverage bottles. Corals and sponges can be entangled in fishing line and other debris…By 2050, there will be more plastic in our oceans than fish. If we all make small changes now and switch over to reusable items then we can help decrease the plastic pollution problem in our local community."
This problem cannot be changed by one person over a short period of time: this effort takes a community. The Berkeley community is a small yet essential part of a larger puzzle to stop plastic pollution in its tracks and allow the next generation to see the beautiful ecosystem of Tampa Bay.  So next time, grab a reusable water bottle from home or a reusable cup from the café to help the Environmental Club's mission to help make the Berkeley community ecologically friendly.