Capstone Project Creatively Expresses Israeli-Palestinian Conflict
Justin Kuhn innovatively portrays a relevant conflict through an inspiring play that he wrote and directed for his Global Scholars' Capstone Project.
C.D. McLean
Hang on for a minute...we're trying to find some more stories you might like.
It all started with an argument over hummus. That's how Justin Kuhn '18 kicked off "Hatikva," or "Hope," his capstone project that detailed the infamous and modern Israeli-Palestinian conflict. For all those wondering, Berkeley's annual capstone project for Global Scholars is a way for students to showcase their knowledge about an international topic. Justin decided to approach his project in an unique way- as an original play that he wrote.
With the help of actors  from Performance classes and two student stage managers, Kuhn designed a stage reading about the personal and political beginnings of the Israeli-Palestinian conflict. On Friday, April 27, the play debuted in Gabos Hall. Assistant student stage manager Annaliese Donaldson-Pham '21 worked alongside student stage manager McKenna Ebert '18 to perfect lighting, sound, and cues. "Since the play is so short, we had to condense it into an hour, so each line has so much information packed in it. Even if you don't know much about the topic, [or] if you know a lot about it, it's good to see it because you get to experience [it] and it feels like you're there," Donaldson-Pham said the day before the play's showing. "I'm excited for this to go up, and it's very cool. I applaud Justin for all of his work."
As the lights died down and after a brief introduction from Kuhn, the play jumped into the first act. A striking image of two walls streaked with the Israeli and Palestinian flags, loomed over two shadowed men who faced each other.. The first scene began as two imperial Palestinian guards commented on how men who disliked hummus could easily be distinguished as foreigners. The conflict snowballed from there, actors rising from their seats sporadically to portray characters with diverse beliefs and lifestyles.
The audience was immersed in both sides of the territorial conflict, seeing the arguments of both Israelis and Palestinians. They also were shown how civilians' lives were transformed from war, and how the leaders struggled to maintain their peoples' rage. "I think [the play is] inspiring. If I were to do a project in the future, I think it shows everybody there's multiple ways to express what you want to say." said Maroula Pavlakos '21, who played Rachel, an Israeli soldier. "…Reading through the script has taught me a lot about it, and you can see the underlying conflict in the characters."
As the play began to wrap up, a compilation of news videos of intense fighting and suffering from the Israeli-Palestinian conflict was presented on the large screen, leaving spectators emotional. The last scene of the play was of a meeting in 2005 between Palestinian and Israeli leaders who reflected on the damage done between their armies and people and how they wanted to restore peace in to a land divided by war. This scene left the audience with the understanding that despite these hopes, the war is still occurring today.
Gabos Hall was abuzz with thoughtful conversation as spectators flooded the stage to congratulate the cast and crew on their hard work on "Hatikva.". "The hardest part was how I condense[d] the Israeli-Palestinian conflict into forty minutes, because the conflict is so huge [and] it's still going on. It's just so intense, and so complex. I wrote as much as I could and I edited [it], and I did that for weeks on end," Kuhn said after his production came to a close. "We spent three rehearsals in here… after school, working as hard as we absolutely could. Then we did this and it's absolutely amazing."

About the Contributors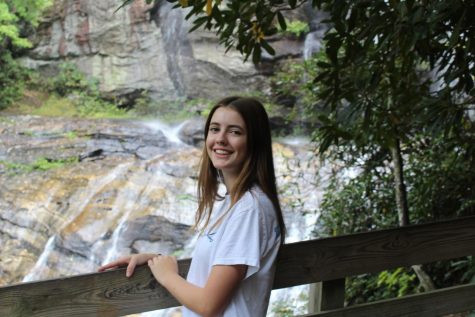 Kendyl Kirtley, Section Editor
Kendyl is a sophomore at Berkeley with a passion for writing. In addition to being a Section Editor on The Fanfare, Kendyl is a writing center tutor, the...