Berkeley Alum Continues to Persevere in NFL
Nelson Agholor '12 knows a thing or two about adversity.
In just one season in the National Football League (NFL) as a member of the Philadelphia Eagles, he's had to deal with two quarterbacks who are mediocre at best, a head coach who has caused issues throughout the team and a strong group of wide receivers that he's had to fight for every minute of playing time.
Still, Agholor perseveres, and that habit goes all the way back to his days at Berkeley, where he had to fight during every game he played on the football field (or, secondarily, on the basketball court) to get noticed by scouts from around the country.
And now, a mere three and a half years later, Agholor has just completed his first full season in the NFL, and he's gone a long way towards accomplishing his goal–"being a man [his] parents can be proud of."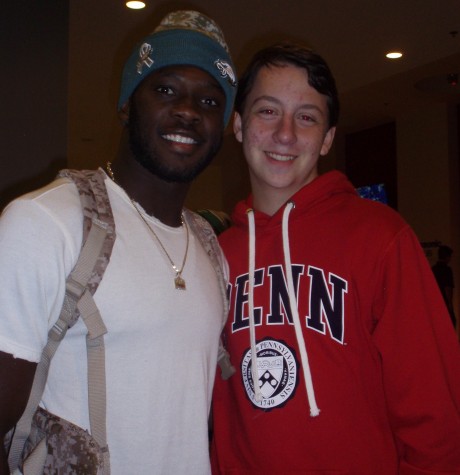 The first thing Agholor tells me about his time at Berkeley is how much Coach Ciao means to him to this day. "He's a special person, you know," Nelson says. "Still to this day I'm in contact with him, and he's had an impact on my current success, and he probably will have an impact on my future success." He references Berkeley's varsity football coach Dominick Ciao as a man who made men from boys, and who has a significant bond with all of his players.
The next thing he mentions to me is how much his teammates have meant to him. "I loved all my teammates," he says. "We were all young men who believed in similar things and loved the process of playing." He talks about Destin Nichols, then the Buccaneers' quarterback, in particular. The bond between a quarterback and his number-one wide receiver has to be significant for the two to succeed in games, and the two matched up for a lot of big plays when they were on the Bucs' varsity team together.
The last thing he tells me about is how tough the transition is–going from one of the best players at his position in the entire country to a rookie buried towards the bottom of the depth chart in just a few short months. "Being in a new environment like that is an obstacle," Agholor tells me. "But the guys there make you more mature as a man and as a football player."
And, unfortunately, it's not going to get any easier for Agholor. The Eagles, after a weak 7-9 season, have fired head coach Chip Kelly, meaning any goodwill Agholor may have built up with him is now gone. Transitioning to a new head coach is always tough and, aside from that, Agholor still has to do some adjusting to the NFL game. He finished with 21 catches for only 260 yards and a touchdown on the year, but he showed strides in later games. In Week 15 against the Buffalo Bills, Nelson caught three balls for 62 yards, including a 53-yard touchdown.
The NFL won't get any easier during what we all hope is a long career for Nelson Agholor. But he'll get better. He'll get smarter. He'll develop. Because he knows a thing or two about adversity.