Humans of Berkeley: Victoria Grills
Senior Victoria Grills talks about her passion for music, singing with the Mello Divas, her band Seeking Seven and planning for the future
Nothing has had a more clear-cut path for Victoria Grills '20 than music. Since she was little, Grills has dabbled in violin, guitar and singing. Entering high school allowed Grills to explore new opportunities in music; as a freshman, Grills was chosen for a coveted spot in the Mello Divas, Berkeley's female A-Capella group, and she formed a band called Seeking Seven with friends at her music studio. Now a senior faced with contemplating her future, Grills prepares to use her talents to launch her career in music.
Q: How did you first get involved with music and the Mello Divas?
A: I started playing violin when I was three. But I didn't really start singing until I was 10 or 11, I want to say. That's when I really got into it. I mean, I've done choir since second grade, but I didn't really consider singing my thing until I was in middle school-ish. And so I had always kind of known, since middle school that I was going to audition to be in Divas. And my sister got in, in her junior year, which was really cool. And then the next year, she was a senior, and I was a freshman. I was, okay, I don't really know if I'll get in or not, but I'll just audition and I'll see how it goes. And so I auditioned. And I got in my freshman year, which was really cool, because it wasn't really common for freshmen to get in. But it was also a cool thing, I got to do [sing] with my sister for that year.
Q: How did you get started with your band? What kind of music do they play?
A: We all take music lessons at the same music studio. And the guy who runs the studio…is Jim Chambers, he kind of sees where students are at and see who would fit well together in a band. So I guess he kind of saw all of us and was like I think they would fit well together…they put us in a room together. And we kind of decided on some covers to start off with.  It turned out that we all worked really well together, which is really cool…We do a lot of pop songs, but [they] are also alternative. And we kind of turn pop songs into [a] more alternative style.
Q: Has your band produced any songs, or does your band write songs just for fun?
A: We haven't recorded or produced anything. Yet! We're hoping to do that at some point. But right now, it's just, we're kind of writing songs just for fun to play and maybe eventually we'll record some [songs].
Q: Outside of your band, you write songs independently. Do you have a favorite song that you've written?
A: It's called Black and White. I just really liked that one. Because we were able to turn it into a song that we could do with the band, I thought was really cool. So that's fun.
Q: Is music something you want to pursue in the future?
A: Yes…I do a lot of songwriting also. And within my band, too, we do original songs. And I am I'm applying to music schools for college. And I want to go into either songwriting or music education because I can totally see myself being a choir teacher one day.
Q: Do you have any advice for Berkeley students who are interested in Mello Divas, songwriting, or being a part of a band? 
A: I would say don't be afraid to try out new things. Don't be afraid to put yourself out there because it can seem really scary. But if it's something that you really enjoy doing, then it's all worth it in the end.
About the Writer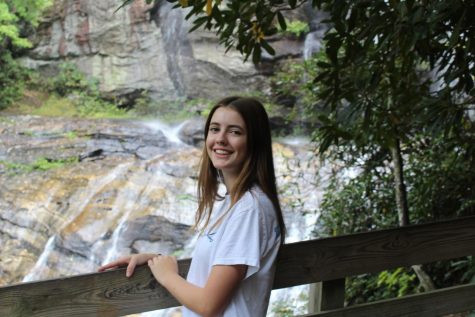 Kendyl Kirtley, Section Editor
Kendyl is a sophomore at Berkeley with a passion for writing. In addition to being a Section Editor on The Fanfare, Kendyl is a writing center tutor, the...