Fall Tailgate Football Player Highlights
Hang on for a minute...we're trying to find some more stories you might like.
Berkeley faced off against  IMG in the Fall Tailgate football game. Under the Friday night lights, Berkeley walked off with a win of 42-7. The crowd, dressed out in holiday outfits and Berkeley apparel, brought an energy to the game that seemed to animate the crowd. Cheerleaders brought more than just their usual routine and worked to get the crowd out of their seats as well as to encourage the players. Berkeley, as a whole, brought their best to the stands and it showed in the results. Hope Urbanovsky, turning 18th that evening, said, "I think all sports events, especially Berkeley events, are really fun to go to…I think they are really special and exciting, and it's so fun to bring the community together."
Xavier Townsend '22 rushing 43 yards and with a total of 89 total yards, and Travis Bates, '22, rushing 108 yards and with eight carries, were MVPs of the night and acted as leaders throughout the night. Townsend ended the night with two touchdowns and Travis Bates with three. When asked who should be MVP for the night, Henry Ferrelli '21 said, "Definitely X [Xavier] and Travis."
In addition to touchdowns from Townsend and Bates, R. J. Garcia '21 got one touchdown. Another honorable mention went to Gavin Rupp '21 passing 111 yards throughout the night with 75% completed passes. Jared Watson '21 said, "[Rupp] consistently scored on each drive and took advantage of good field position." 
About the Writer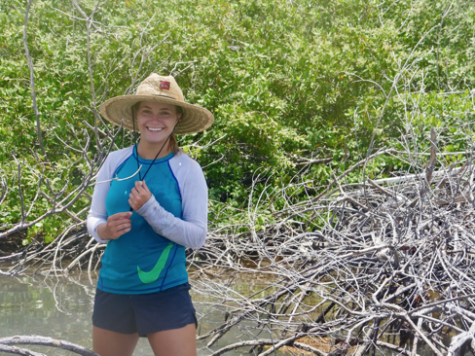 Rachel Mintz, Staff Writer
Rachel Mintz is a writer and photographer for Fanfare this year. She is a junior at Berkeley and has been at Berkeley since 8th grade. Rachel enjoys playing...