Berkeley has a 'Heart 4 the Homeless'
Students serve food on Thanksgiving Eve with the Kelley family's organization Heart 4 the Homeless
On November 24th, the day before Thanksgiving, Community Service Council member Natalie Kelley '23 and her sister Caroline Kelley '24; joined by Berkeley volunteers Davy Zahn '24, Kobe Skye '23, Aryana Makati '24 and Emily Richardson '24; hosted a Thanksgiving buffet for the homeless population of downtown Tampa Bay.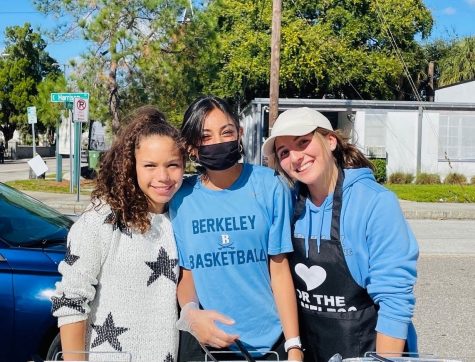 Excited families and individuals rushed in line as the Kelley family and Berkeley students served food. They catered Thanksgiving essentials from Golden Corral, including stuffing, green beans, mashed potatoes, macaroni and cheese, turkey and corn. 
Berkeley students also contributed to the buffet by bringing in homemade dishes. Skye, for instance, brought a baked mac-and-cheese. Richardson also baked cookies and brownies.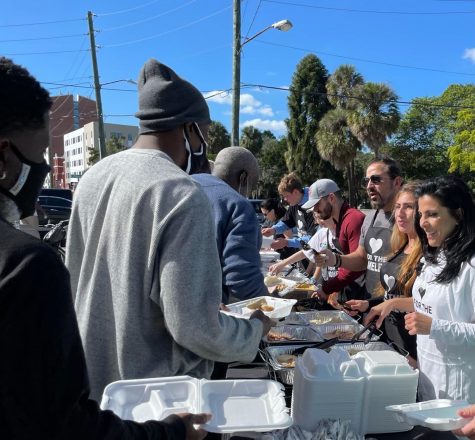 Although Thanksgiving is a day surrounded by warm food and family, approximately 27,000 homeless individuals in Florida are left without enough food or a family to enjoy the holiday. This lack is what drove the Kelley family to starting their organization "Heart 4 the Homeless" in 2002.
"When I moved to Tampa, I realized a lot of homeless people didn't have family around the holidays," Jill Kelley, mother of Natalie and Caroline, said. "So I realized that I could at least share my holidays with those who didn't have anyone to spend it with."
The sisters introduced their family's organization to Berkeley in middle school through their Heart 4 the Homeless (H4H) club, sponsored by Middle Division History teacher Corey Estes. Though the club is no longer active since the Kelleys graduated eighth grade, H4H has become a community service opportunity open to Upper Division students each year.
"I've been in H4H for three years, and I decided to help out at the annual buffets because I thought it would be fun," Zahn said. "I felt I had a duty to help after I went to the first club meeting in eighth-grade."
And so, the homeless of Tampa Bay enjoyed Thanksgiving a day early with the members of their community.
"Thanksgiving means a lot to me," said André Davis, a regular attendee of the buffet. "I don't do anything but want to give and see the people in my community enjoy the things that are given to them."